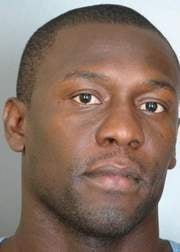 You may not recognize 28-year-old Rannord Jones from his mugshot, but it's probably because his teeth aren't attached to the chin of a soccer referee. Jones, who Delaware police charged with felony assault, abuse of a sports official, terroristic threats and harassment, after that ridiculous incident two weeks ago, is in legal trouble again. This time, Jones and his buddy, 27-year-old Alexander Bennett, allegedly stabbed a man in a Jamaican restaurant.
Police say Bennett got into a tussle with a happy, dancing couple after the female portion of the duo accidentally bumped into him. Bennett punched the woman in the face, prompting the 29-year-old fella she was cha-cha-ing with to step in and attempt protect her honor. Unfortunately for the would-be hero, the face-biting Jones was nearby with a knife and stabbed the man in the armpit before he could complete his chivalrous act.
For this latest act of violence, Jones is being charged with second-degree assault, possession of a deadly weapon and conspiracy. Ole!
2 charged in restaurant stabbings [Delaware Online]
Why Didn't Anyone Try This On Donaghy? [Deadspin]