Jalen Brunson didn't think too much about hanging out at Madison Square Garden as a kid. He considered it normal. To him, it was.

His father, Rick, was a backup point guard for the Knicks over parts of three seasons in the late 1990s and early 2000s, all before Jalen had even entered elementary school. "I remember running around the locker room, running around the court after the game," Brunson said. "The little things like that." Later, when Rick played for other NBA teams—including the Knicks, he played for eight teams in nine NBA seasons—Jalen made the 90 mile trip from the family's home in Cherry Hill, N.J., to watch his dad play.

Back then, Jalen's future had more to do with learning fractions than returning to Madison Square Garden as a player. But that's where he was last weekend, when Brunson—now a junior All-American and one of the best players in college basketball—led Villanova to its second straight Big East conference tournament title. By the time Jalen was in sixth grade and Rick's NBA career was over, it was clear that Jalen would try his best to follow in his father's path. His parents encouraged him to play other sports and enrolled him in soccer, baseball, and football leagues, but his mind was made up early. "All Jalen wanted to do was just live, eat, breathe, and sleep basketball," said Sandra Brunson, his mother. "No matter what sport we put him in, he always came back to basketball." He was always coming back to the Garden.

After Rick retired from playing, the family moved in 2007 to Charlottesville, Va., where he began his coaching career at the University of Virginia. Three years later, Rick was hired as an assistant with the Chicago Bulls and the family bought a home in nearby Lincolnshire, Ill. Rick pushed his son to reach his potential, but carefully. Yes, he worked Jalen out in one-on-one drills, spoke about the importance of never being satisfied and made sure his son had the best resources available. But the elder Brunson also had seen other fathers who wanted their kids to succeed more than those kids did, and was wary of projecting his dreams onto his son. "A lot of times, Rick would just say, 'I'm not going to be one of those parents. I don't need him to do this. It has to be him. It has to be him,'" Sandra said. "Jalen always came back. He always came back. Jalen was just adamant."

Those hours in the gym with his father soon started paying off for Jalen, and he had one of the best careers in suburban Chicago history at Adlai Stevenson High School. He started all four years and became the all-time leading scorer in Lake County with more than 2,600 points. "From day one, as a freshman, he was off the charts as a person, as a player, and as a teammate," said Pat Ambrose, Brunson's high school coach. Stevenson got knocked out of the Class 4A state playoffs in two consecutive seasons, by teams that featured future Duke stars and NBA lottery picks Jabari Parker and Jahlil Okafor, but Brunson helped bring home a championship as a senior in 2015. It was the first time a Lake County school had won that title in the tournament's 108-year history.

G/O Media may get a commission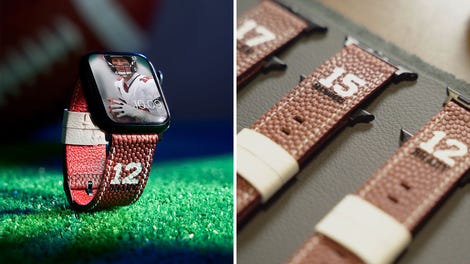 Official NFL PRODUCTS
Official NFL Apple Watch Bands
Brunson was an easy choice as the state's Mr. Basketball that year, but he proved himself on the national stage, too. He was ESPN's 16th-ranked player in his class and a McDonald's All-American and played in the Nike Hoop Summit; he was Most Valuable Player of the 2015 FIBA Under-19 tournament, which the U.S. won. And yet Brunson didn't carry the same prospect buzz as some of his teammates on that FIBA squad, which included current NBA players Josh Jackson, Jayson Tatum, and Harry Giles. He stood out for his intelligence, selflessness, and maturity, though, and he helped his team win. "Every leadership quality that you look for in a basketball player or a person defines Jalen," said Eric Flannery, Brunson's coach on the Nike Hoop Summit team who has been involved with the USA Basketball program since 2001. "If I were to start a basketball team in all the years I've been doing it, I would start with Jalen Brunson as my point guard."
Plenty of college coaches agreed, and Brunson seemed bound to follow in his father's footsteps at Temple. The Owls were reportedly set to hire Rick as an assistant coach before his son's senior year of high school, but that fell through after Rick was arrested and charged with sexual assault and other crimes during an encounter with a massage therapist. He was found not guilty of all charges.

Instead of Temple, Brunson ended up at Villanova, the biggest of Philadelphia's Big 5. Brunson had built a rapport with Villanova coach Jay Wright during the recruiting process, and believed he could step in and contribute to a stacked team right away. He would not be the team's first option—senior Ryan Arcidiacono and juniors Josh Hart and Kris Jenkins did most of the heavy lifting—and he knew it. "Any kid in my position coming from being an All-American and all that wants to be the guy that makes all the plays coming into their freshman year," Brunson said. "It was tough, but it was something I signed up for. It was something that I wanted to do." Brunson did it, starting 39 of 40 games as a freshman and scoring just under 10 points per game for a Wildcats team that won the 2016 NCAA tournament championship.

Brunson's role expanded over the next two seasons in a strikingly natural way. Wright would entrust Brunson with progressively more freedom to run the offense and Brunson would flourish in turn. "When I watch him on TV, I have a huge smile on my face," Ambrose said. "I just nod my head like, 'Yup, I've seen that a thousand times.'" Brunson was a first-team All-Big East selection as a sophomore last season, averaging 14.7 points and 4.1 assists per game and shooting 54.1 percent from the floor. He's been even better this season.

Going into Thursday night's first round game against Radford, the Wildcats lead the nation with 87.1 points per game and have the second-highest adjusted offensive efficiency rating since Ken Pomeroy began tracking that statistic in 2002. The 2015 Wisconsin team, which lost in the NCAA Tournament championship game, is the only squad with a better adjusted offensive efficiency rating over that period, and those Badgers averaged nearly 15 fewer points per game. The Wildcats enter the tournament ranked second in the nation and seeded first in the NCAA Tournament's East region

Brunson won Big East Player of the Year at a walk, and is the main reason why the Wildcats' offense has been so hard to stop. He is averaging 19.4 points on 53.1 percent shooting, and his 4.7 assists per game are a career high. He seems virtually assured of a first-team All-American nod, and should garner some national player of the year consideration, too. Wright credits Brunson's success to his self-motivation and work ethic. "The easiest guy I've ever coached," said Wright, who is in his 17th season at Villanova. "And I've coached some great ones. Easiest guy ever."

To see how easy Brunson makes things look, you need only go back to his previous game—Saturday's Big East championship against Providence. Brunson missed a three-pointer with 2:16 remaining in that game, then grabbed the offensive rebound and drew a foul, but he missed the front-end of the one-and-one. So far, so difficult. Then a minute later, with the game tied at 58, Brunson committed a turnover; there are college stars for which this chain of events would lead to a spiral. Brunson is not one of those players, and after Providence went ahead by two points, Brunson coolly shook off his previous errors and connected on a pair of free throws to force overtime. During the extra session, Brunson made a jumper and a dunk as Villanova pulled away for a 76-66 victory and its second consecutive Big East championship. No one in Villanova's program seemed remotely surprised that Brunson, who tied his career-high with 31 points, was able to regroup when it mattered most.

"(Xavier coach) Chris Mack had the greatest line," Wright said. "He said, 'If you pull down the skin on his face, there would be wires behind it.' He's so focused on the game. He's on another level. He really is."

While Brunson celebrated with his teammates on the Madison Square Garden floor, another former Villanova star looked on admiringly. Toronto Raptors guard and fellow former Wildcats playmaker Kyle Lowry was enjoying his alma mater's win and impressed with the player who'd made it possible. "He's been getting better every year." Lowry said of Brunson. "He's gonna be a pro. I'm happy for him."

Brunson, for his part, isn't discussing that part yet. He is one of only five players from the 2015 McDonald's All-American game still playing college basketball; all the rest are in the NBA or another professional league. Ask Brunson about it, though, and he'll tell you he's more concerned with winning another NCAA title than whatever NBA future might await on the other side of it. "I'm not even worried about that," he said. "I'm just happy to have this opportunity, with this group of guys."

Wright, for his part, spoke as if he didn't expect Brunson to return next season, and has recruited accordingly, lining up the star high school point guard Jahvon Quinerly to step into Brunson's spot next year. ESPN has Brunson as the 37th-ranked prospect in the draft and projects him as an early second round selection, but he is the sort of polished veteran college player that tends to step quickly into a rotation role. Brunson is on track to graduate this summer in just three years, as well, making the decision easy, as far as his coach is concerned. "I think he should (leave for the NBA)," Wright said. "If they ask my opinion, I think he should. I don't want to lose him, but it's just smart."

Even if Brunson doesn't get drafted until the second round, Wright and others expect him to stick around on NBA rosters for a long time, just as his father did. His dad didn't get drafted at all.
Rick is an assistant coach with the Minnesota Timberwolves, and doesn't get to see his son play in person too often. The two still speak before and after every game. "He's been coaching me since I was a baby," Brunson said. "It's never going to stop, no matter where he is, no matter where I am."

While the Wildcats celebrated on the court on Saturday night, Brunson jogged up to the stands and hugged several family members, including his mother, Sandra, and only sibling, Erica, who turns 17 on Wednesday. "We tell each other everything," Erica joked, "we see each other way more than we should." She remembered all the times Jalen spoke about his basketball dreams—performing in front of huge crowds and winning championships. "He knew he wanted to do this since he was little," Erica said. "It's no surprise."
---
Tim Casey is a freelance sports writer based in suburban Philadelphia. His articles have appeared in the New York Times, USA Today, Vice Sports, Bleacher Report, SB Nation and other publications.