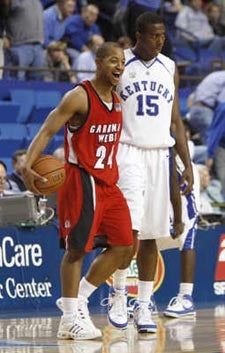 The college basketball season has barely started — really, it hasn't, not at all — and we've already had three ridiculous upsets (even if two didn't count). This is a welcome break; if you'll remember the NCAA tournament last year, we barely had any. We hope this is a good sign.
Gardner-Webb's shocking pasting of Kentucky last night might show that new coach Billy Gillispie has a long way to go, but we don't think it should be too far read into: Sometimes your team just assumes it's going to win.
"Everybody was looking forward to the New York trip," freshman Patrick Patterson said. "No one thought much of this team. Everybody was focused on New York and Connecticut and Oklahoma and Memphis. The teams up there. This game, we didn't really bring it like we should."
Yeah, it happens, and that's why it's fun. We just hope Kige is OK this morning.
Gardner-WEbb Takes Down Kentucky [The Love Of Sports]
UK's Loss Proves That Gillispie Needs Time [The Sporting News]