As if you weren't already paying too much to see Justin Turner mash on Dillon Gee's behalf, a recent internet groundswell sheds light on another gross perversion inherent in the Citi Field experience. A dog, Coffee, sits outside the stadium, ostensibly for your amusement, in sunglasses or a Groucho Marx disguise, with a WRIGHT 5 jersey on its back and a pipe in its mouth. There's a plastic jug for donations at its feet.
And, given the photo evidence the people on the Stop Abusing Coffee Facebook page have discovered and interpreted, using the rightmost photo, a shock collar around its neck. Shock collars on dogs may not raise your hackles in every circumstance, but they ought to if the dog is wearing a get-up that would irritate anyone short of Popeye AND is raising money. You know? The dog's owner, who stands at a safe remove, tells people the money goes to rescuing other dogs, training them, and finding good homes—but Coffee's own circumstances seem to provide evidence to the contrary.
Jason Long, who works in marketing and social media and founded the Facebook page, tells me that he and his wife have attended 50 or 60 Mets games over the last four years, and that, regardless of the weather, Coffee's been there. Same goes for Yankee games.
The final straw, Long says, came after the Mets game on Mother's Day, May 8. "Coffee was out there, before and after the game, without food or water." Long says he saw the dog try to rest for a bit before a glare from its owner made it pop right back up. "I have two rescue dogs, and they wouldn't get up from rest that quickly, except maybe for a steak. Inside my gut, I knew she was being abused."
The Stop Abusing Coffee Facebook folks have over 1,700 fans, and even more signatures on their online petition. They've reached out to the Mets, to old-timey New York reporter-cum-gumshoe-types, to the NYPD and the ASPCA, and, well, they got us and Can't Stop the Bleeding. Close enough.
G/O Media may get a commission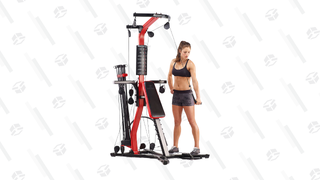 31% Off
Bowflex PR3000 Home Gym
We've put a call into the Mets, who, as Long noted, don't need any more negative press. The relevant media relations manager "stepped out for a lunch" that seems likely to stretch late into the afternoon.
Update, 4:52 p.m.: The Mets, back from what must have been a 20-course extravaganza, said, in a statement: "We have addressed the matter with the NYPD and the Parks Department. As the Mets plaza is an open public space on parkland, the Mets cannot control access." Noted.
Stop Abusing Coffee [Facebook]