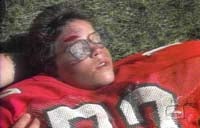 What sort of mutant, steroid-enhanced high school football are they playing in Kansas? The Smith Center High Redmen scored 72 points in the first quarter of Tuesday's game with Plainview, begging the question, what did the Plainview coach tell his team at halftime? "We're changing the defensive alignment from a 3-4 to a 4-3; that oughta stop 'em." You know it's different in Kansas; they play on high school football on Tuesdays.
Smith Center forced six turnovers in the first quarter as it racked up what is believed to be a record for points in a quarter by a high school team, the paper reported. The previous record was 66 by Prescott, Ariz., in 1925. The defending state champion has outscored its opponents 640-0 so far this season, including a 69-0 win over Plainville earlier this year.
Of course, this is also the area of the nation that recently gave us this story. Kansas! When did you get interesting?
Prep Football Team Tallies 72-Point Quarter [MSNBC]
45 Straight Wins: Something's Going Right At Smith Center [KSN.com]
Two Pair Not A Winning Hand In Kansas [Deadspin]