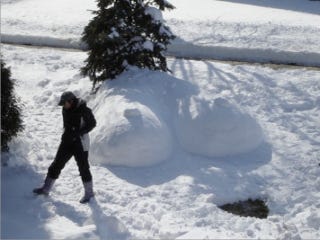 Here's the subject line of an email sent by tipster Kadinsky of Milwaukee: "I see your snow dong..." The point comes into focus after the ellipsis: "and raise you a pair of snow tits. with sculpted bush." That's all you had to say, MF.
Suffice it to say, Kadinsky and anybody in her artistic harem are hereby declared winners of America's snow-genitalia sculpting contest. Congratulations. (The runner-up from the last-minute entries — over there to the left — came from Asheville, NC.)
A Lot Of Time Went Into Crafting This Snow Dong [Deadspin]
The Chicago Snow Dong Seemingly Inspired A National Art Contest [Deadspin]
****
Thank you for your continued support of Deadspin. Best of luck choosing between Ninja Assassin and 3 Ninjas (both on TV now!) if that's your thing.