For years — OK, a couple of days — Slate writer Robert Weintraub has been tinkering with a concept called The SSW, short for "The Sean Salisbury Wisdom," which tracks the consensus of the football punditocracy to ensure those triumphant declarations from Friday aren't flushed down the memory hole on Monday. Here's this week's SSW.
PREVIOUS SSW
Green Bay is decent, but reality, thy name is Merriman.
NEW SSW
The country dudes Favre practices with in those Wrangler ads have really helped Brylcreem Brett sharpen his game.
PREVIOUS SSW
Donovan McNabb's attempt to change site of Eagles-Lions game to Jena, Louisiana comes up short.
G/O Media may get a commission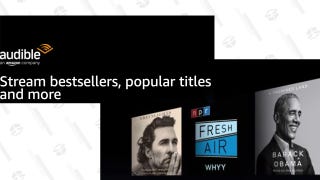 FREE
Audible Premium Plus 3-Month Free Trial
NEW SSW
Superstition is fine, but please don't tell me you'll be wearing those unis ever again. Ever.
PREVIOUS SSW
They run, they hit, they get things done in the crunch—beware the Redskins, the NFC's bounceback team.
NEW SSW
Joe Gibbs is the NFL's Bobby Bowden, looking on helplessly as his team plays on without his (1980's era) input. Next time, try Southeast Jerome on the goal line.
PREVIOUS SSW
Has Jacksonville's offense broken the childproof locks on Jack Del Rio's axe cabinet?
NEW SSW
Nothing like an 18-play, 12-minute drive to get a team choppin' wood.
PREVIOUS SSW
Cincinnati has to have the ball last to prevail, because they sure aren't stopping anybody in crunch time.
NEW SSW
In order to have the ball last, one must not fumble the kickoff. Is it possible it's the Bengals' special teams that are the weakest link?
PREVIOUS SSW
The Giants defense is so awful, the team asked Sam Huff to come down from the Skins' broadcast booth to suit up against Washington.
NEW SSW
Remember Gary Reasons? This goal-line stand was just like that one—except without the Super Bowl caliber team and the dramatic snowy field. Meanwhile, Tom Coughlin remains unkillable with conventional weapons.
PREVIOUS SSW
As long as the Cowboys play teams that can't throw deep, they are tough to beat.
NEW SSW
The only thing holding this super team back last year was Parcells.
PREVIOUS SSW
Cards could be easily 0-2, easily 2-0. Who the hell knows what kind of team they are? At least they have Leinart...
NEW SSW
Long-distance Daddy-dom doesn't mix with studying game film. Meanwhile, Kurt Warner's freaky wife seen brandishing steak knife in Paris Hilton's direction, screaming "keep your sickness away from my Special K!!"
PREVIOUS SSW
Once again, the Bears defense and special teams will be asked to win games in spite of Rex Grossman.
NEW SSW
The Bears defense and special teams main suspects should the brakes fail on Rex's GMC Yukon.
PREVIOUS SSW
The tide may be rising over Norv's head, but his talented team will provide a Mae West.
NEW SSW
Who is laughing harder, Marty Schottenheimer or Jose Mourinho?
PREVIOUS SSW
The Raiders won't win a game until the franchise admits that Al Davis, in fact, died four years ago.
NEW SSW
Once innovators, the Raiders resort to copycat tactics to win the game at the gun. Well played, though not exactly cricket. And it's not like the "iced" kicker choked—the figgie was blocked. Just win, baby!
PREVIOUS SSW
D'Brickashaw Ferguson is an average tackle not living up to hype, draft position, or cool name.
NEW SSW
D'Brickashaw Ferguson let Jason Taylor know life will be much more difficult when Miami plays the Jets twice a year.
PREVIOUS SSW
We are not beholden to the Law of 370, sayeth Kansas City, who will run LJ until his lower extremities are scattered all over Arrowhead Stadium.
NEW SSW
OK, so it's not 1974, we'll throw the ball a little. Hey, looky there, a touchdown!
PREVIOUS SSW
The MNF legions, the Superdome, Spike Lee—cue up the inevitable video of still storm-damaged New Orleans, cause it's time to jerk the tears once again.
NEW SSW
Who says things aren't back to normal in the Crescent City—the Saints are back to being terrible. Oh, and Daunte Culpepper is better than Brees. The Nicktator was right!