For years — OK, a couple of days — Slate writer Robert Weintraub has been tinkering with a concept called The SSW, short for "The Sean Salisbury Wisdom," which tracks the consensus of the football punditocracy to ensure those triumphant declarations from Friday aren't flushed down the memory hole on Monday. Here's this week's SSW.
PREVIOUS SSW
Finally, Romeo sees the light, and the City of the Big Shoulders unclenches its collective fists.
NEW SSW
Can Hope Solo throw a spiral? How about defend the onside kick return? Flash ahead a month, when Rex is back in as QB for the 3-6 Bears.
G/O Media may get a commission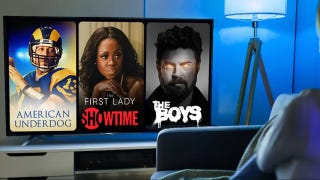 UNDER $1
99¢ Prime Video Channels
PREVIOUS SSW
Brett Favre, playing not a day over 35.
NEW SSW
Those who were quickest to bury Favre and call for his ouster (anyone remember the name "Aaron Rodgers") will be first to cast a vote for Favre as MVP. The only Aaron that mattered all along is Kampman.
PREVIOUS SSW
Jeff Garcia's game is as ugly as his wife is delicious, but he wins games.
NEW SSW
No more Cadillac, but it looks like even a Yugo can win the sad sack NFC South. Barrett Ruud and Jermaine Phillips are Lexus class, though.
PREVIOUS SSW
Big Ben eager to show he didn't need Whisenhunt to guide him toward great decisions, like riding a crotch rocket without a helmet.
NEW SSW
Revenge is a dish best served in a dry heat. WhizNGrimm have the QB shuffle down—now they need a Slash type player to complete the Iron City Southwest makeover.
PREVIOUS SSW
Dallas Clark is the best non-fullback to wear #44 ever.
NEW SSW
Hey dude, those seats cost about $175—is a souvenir too much to ask?
PREVIOUS SSW
The Dolphins stink, but they usually win September games in sultry Miami, especially against Done-te Culpepper.
NEW SSW
Everyone always says it's the second year that proves a player is back from a serious knee injury. But why be patient when Trent Green is available?
PREVIOUS SSW
If there's one guy in the league Norv can outcoach, it's Herm.
NEW SSW
Maybe the Chargers can talk the Giants into dealing Eli for LaDanian. Does this mean Father Manning was right about the Chargers franchise all along?
PREVIOUS SSW
D-Nabb without the knee brace put up 56 on the Lions. Enter the Big Blue Can't Cover Crew.
NEW SSW
Winston Justice part of grand conspiracy to make McNabb look bad, therefore come under more criticism "because he's black." Wait, Justice is black, too? Bigger Uncle Tom than Clarence Thomas.
PREVIOUS SSW
The Bengals need a whole bunch of pigeon shit to get in Brady's eyes to have any chance against the Pats.
NEW SSW
Wake us up January 20, when the Pats and Colts play for the championship in the AFC Title game.