For years — OK, a couple of days — Slate writer Robert Weintraub has been tinkering with a concept called The SSW, short for "The Sean Salisbury Wisdom," which tracks the consensus of the football punditocracy to ensure those triumphant declarations from Friday aren't flushed down the memory hole on Monday. Here's this week's SSW.
PREVIOUS SSW
Kitna and his band of disciples have Jesus on their side, and thus a chance at ending Detroit's endless futility in the nation's capital.
NEW SSW
The least-heralded part of Auburn's Salary Cap Backfield of 2004, Jason Campbell, looks like he'll be the keeper at the pro level.
G/O Media may get a commission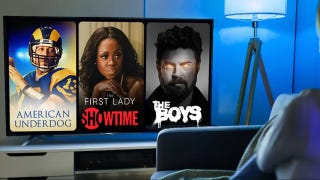 UNDER $1
99¢ Prime Video Channels
BUT WAIT, THERE'S LESS
Detroit's a good team to play when down a top wideout (as the Skins were without Moss)—according to Football Outsiders, the Lions excel at stopping the opponent's #1 receiver (6th in the NFL), but can't stop the dude on the other side (30th in the NFL). In this case, everyone was #2, as Campbell hit 8 different receivers.
PREVIOUS SSW
New York should shift easily from baseball drama to basketball soap opera without stopping to pay attention to football.
NEW SSW
If NFL truly was all-powerful, it would have scheduled Jets-Giants game after annual Yankees collapse.
BUT WAIT, THERE'S LESS
Whither the Mangenius? Last season, the Jets came up with enough trick defenses and big plays to sneak into playoffs. Sunday, Jets D-line was simply manhandled. As a great New Yorker, Oscar Madison, put it, "Brains, without brute force, in football leaves a lot of cleat marks on the back of your head."
PREVIOUS SSW
Cardinals playing well even though presumed franchise quarterback can't outplay presumed dead backup last effective pre-9/11.
NEW SSW
Cards receiving corps (not dissimilar to Greatest Show On Turf in skill) seen paying off reward to Rams lineman responsible for snapping Curly's collarbone.
BUT WAIT, THERE'S LESS
Easy to make fun of the Rams, but they almost won with Slappy Frerotte (presumed even deader than Warner) and no Stephen Jax. The refs handed the Cards this one with Donaghy-like efficiency.
PREVIOUS SSW
Don't look now, but Joey Joe Joe Harrington isn't half-bad.
NEW SSW
He's all bad. But Leftwich should be cut again. He's as awful as Tony Gwynn is fat.
BUT WAIT, THERE'S LESS
Crumpler is only half right when he says "when we get inside the 50, we're the worst team in the NFL." Uh, lose that qualifier, Algernon.
PREVIOUS SSW
Vince Young, outdoing Reggie Bush again. Damn, that Heisman vote just keeps on giving.
NEW SSW
Vinnie, you're engaging, but let's get another take on that tattoo commercial. And while you're at it, another time through the playbook—that was a lucky win and a half-assed performance.
BUT WAIT, THERE'S LESS
Titans unfurled some nifty pirouette plays to take advantage of Young's mobility, including a fake handoff, spin out to a bootleg, then spin back toward the original thrust of play, then look downfield. Not particularly effective, but it sure was purty.
PREVIOUS SSW
Canning Marty Schottenheimer worst decision since Papa Dolan told his wife to leave the diaphragm in her purse.
NEW SSW
Norvelous!
BUT WAIT, THERE'S LESS
41-3 looks grand, but it's more a statement of how woeful Denver has become. What's more arrogant—assuming crappy coaches can take over the Chargers with no slippage, or the "I know better" approach of Shanahan? Who else would draft Clarett, sign a bunch of Browns d-linemen, pop in a rookie at QB with the playoffs in view, and pick up a deadbeat dad with a penchant for the sticky stuff? Then scoff at those who question the moves? Suddenly, the Raiders are the model franchise of the AFC West.
PREVIOUS SSW
Cue the hype for the Cowboys-Patriots showdown midway through the second quarter.
NEW SSW
OK, you can cue it now. And note to NFL suits: Let's not wait another 13 years before returning to Buffalo for Monday Night Football.
BUT WAIT, THERE'S LESS
Game eerily reminiscent of return of MNF to Cincy after a decade-plus of ignoring the town—led by former Bronco Deltha O'Neal, the Bengals swiped a bunch of Denver passes and shocked Shanny's boys. Until it was eerily reminiscent of Bears-Cardinals Monday night game last year.