For years — OK, a couple of days — Slate writer Robert Weintraub has been tinkering with a concept called The SSW, short for "The Sean Salisbury Wisdom," which tracks the consensus of the football punditocracy to ensure those triumphant declarations from Friday aren't flushed down the memory hole on Monday. Here's this week's SSW.
PREVIOUS SSW
Romo & Co. have a puncher's chance at handing the Pats their first loss. And then we can speculate if the Cowboys will go undefeated!
NEW SSW
Patriots = Georgia Tech
Rest of NFL = Cumberland College
BUT WAIT, THERE'S LESS
Barring a Brady broken leg, it would be an upset if the Pats didn't go unbeaten. But are they better than the '03-04 squads that won 21 straight and 32 of 34, counting the playoffs? Perhaps not—they are not nearly as scary defensively (although their best player, Richard Seymour, might be back this week). But the league is infinitely worse than just a couple of years ago, so 19-0 looks promising.
G/O Media may get a commission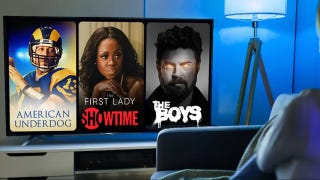 UNDER $1
99¢ Prime Video Channels
PREVIOUS SSW
Old, crappy, and color-blind, Vinny's comeback makes for some good fantasy waiver wire jokes.
NEW SSW
Cue the George Blanda references. Meanwhile, John Shaffer tosses some balls through his backyard tire swing and waits for the call from Arizona.
BUT WAIT, THERE'S LESS
Steve Smith deserves all the hosannas he receives. But it was Rod Hood's botched coverage that made the decisive play a success for the Panthers. One moment of mental midgetry, and Vinny's a national hero, while the Cards are, well, the Cards. And Arizona's "he's still playing?!" QB was knocked out in the first quarter.
PREVIOUS SSW
Reggie Bush since Heisman Trophy acceptance speech: Bonehead lateral that cost USC third straight title, dubious housing deal in LA, passed over as No. 1 pick, sporadic rookie season, now full on bust.
NEW SSW
In lameass NFC, even 0-4 start doesn't eliminate Saints from the playoffs, not with Reggie B. juking and jiving.
BUT WAIT, THERE'S LESS
Write off the Seahawks at your own peril—the schedule is ludicrously easy the rest of the way, so long as Hasselbeck isn't conked by a falling camera. But Alexander is nothing without lead blocker Mack Strong.
PREVIOUS SSW
Levi Jones vs. four dudes in Vegas? No sweat.
NEW SSW
Levi Jones vs. Jared Allen at Arrowhead? No chance.
BUT WAIT, THERE'S LESS
The Bengals gave huge money in the last couple of years to the perennially injured Jones and their opposite tackle, standard-bearer but aged Willie Anderson. Meanwhile, stud guard Eric Steinbach was allowed to walk to the Browns. And the Bengals offensive brilliance has gone with him.
PREVIOUS SSW
Bears and Vikings have played approximately 38 straight unwatchable games, and Griese-Jackson QB matchup promises to make it 39.
NEW SSW
Peterson -Hester slugfest most scintillating game of season, and lone contest worth watching on blahfest Sunday.
BUT WAIT, THERE'S LESS
Boy, the Bears miss Tank Johnson—Chet Taylor got 83 yards on top of A.P.'s 224. But those Peterson runs will be the ones shown when he is announced as Rookie of the Year. Fantasy football magazines are already planning covers featuring Peterson as consensus number one pick in 2008. Enjoy him before the inevitable injury.
PREVIOUS SSW
Fantasy stampede to reacquire Jones-Drew not seen since Costner was shaken out of whiskey-induced sleep by tatonka rumbling across Dakota Plains. But will MJD be successful against Jags bete noire, Houston?
NEW SSW
J-ville prime candidate to ruin CBS wet dream of unbeaten Colts-Pats showdown.
BUT WAIT, THERE'S LESS
The Jags took beating the Texans seriously—they onside-kicked in the second quarter, up 7-6, and recovered. More teams should pull the OK out of the shocker bag when least expected—it almost always works when not done out of desperation.
PREVIOUS SSW
Eli-to-Plexiglass, the two guys most responsible for last season's collapse, suddenly most lethal combo in league.
NEW SSW
With weak schedule ahead, Giants extremely capable of taking the division, making playoffs, and foisting Coughlin on fans with WFAN on speed dial for another season.
BUT WAIT, THERE'S LESS
Falcons are awful, but not as bad as Atlanta mass transit, which is incapable of getting people home from events at Georgia Dome without pissing them off. Meanwhile, in comedian news, on ESPN Jimmy Kimmel slays Joey T. in absentia, while TBS airs 17th and final postseason baseball game—one over the minimum (they had four sweeps and a four-game series). Frank Caliendo weeps.