For years — OK, a couple of days — Slate writer Robert Weintraub has been tinkering with a concept called The SSW, short for "The Sean Salisbury Wisdom," which tracks the consensus of the football punditocracy to ensure those triumphant declarations from Friday aren't flushed down the memory hole on Monday. Here's this week's SSW.
PREVIOUS SSW
They lost to the Pats, but Indy was better than the Greatest Team Ever for 50+ minutes, so they're still in good shape.
NEW SSW
Fugly loss feels like either a Pyrrhic victory, or a moral loss, or some combination that means nothing in the standings and everything to 24/7 NFL talk shows.
G/O Media may get a commission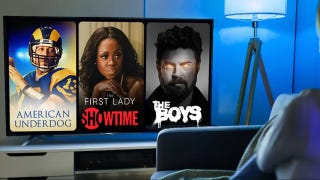 UNDER $1
99¢ Prime Video Channels
BUT WAIT, THERE'S LESS
Remember last year, after the Pats lost to Denver and everyone read ill omens into Brady's bad body language? Thought not. He and his team turned out OK, as will Manning and the Colts. Will need Freeney and OL healthy by AFC title game is all (although it would behoove Indy to finish ahead of Pitt and not play divisional round at Ketchup Field).
PREVIOUS SSW
Eli finally living up to #1 draft status, and by outplaying Romo, will get fans to stop lumping him in with A-Rod as "guys who just can't make it New York."
NEW SSW
Eli just can't make it in New York. As my stepfather said in his thick Brooklyn accent at the final gun—"Bawbby, we need a new quarterback."
BUT WAIT, THERE'S LESS
Eli not responsible for the two killer holding penalties, or the tragicomic attempt to cover T.O., or the fact that his best receiver and fave target was less than 50%. But he probably can't make it New York.
PREVIOUS SSW
All those Saints ads featuring Reggie, Drew and happy New Orleanians scrubbed free of toxic mold for the day can be watched unironically once more—the ship is buoyant again.
NEW SSW
If Steven Jax, T-Holt, and Bulger stay upright and ambulatory, the Rams can still finish ahead of the Saints.
BUT WAIT, THERE'S LESS
The Rams blitzed an amazing 16 of 18 plays to start the game, en route to a 34-7 lead. Brees is a precision passer, but seems to struggle in hot route situations. Forget the Cover Two shell when playing Nawlins, and bring everyone you got.
PREVIOUS SSW
Vince still searching for elixir that will improve his accuracy, but he's Bart Starr compared with Quinn Gray.
NEW SSW
Forget the InVinceable One—Fat Albert Haynesworth is the key cog to the Titans.
BUT WAIT, THERE'S LESS
VY has rushed for over fifty yards twice this season, Sunday and against Indy. Tennessee lost both of them. Lesson—stop at 49 yards, even if it requires a screeching 90-degree turn and sprint out of bounds.
PREVIOUS SSW
Dawg Pound finally has a reason to slobber and pee excitedly on the rug, but 34-7 smack on the nose with a rolled up newspaper by masters in black and gold on Opening Day still fresh in everyone's minds.
NEW SSW
Brownies are a year away, but loaded in all three phases with ballers. All they need is a coach with a clue—and better red flag technique.
BUT WAIT, THERE'S LESS
Joshua Cribbs and Antwan Peek were both fantastic, but while Cribbs is good, let's not forget that this so-called "golden age of returners" is more a function of weak cover units than anything else. Heavy turnover and injury potential prevents cover units from building any sort of cohesion, and Cribbs, Hester, et al, take advantage. It's damn exciting though, so who cares?
PREVIOUS SSW
Seattle mediocrity chalked up to Hasselbeck family tension after revelation Hawks QB is much more than "Uncle Matt" to Elizabeth and new bambino.
NEW SSW
New Seattle MLS franchise likely to score more often than Niners.
BUT WAIT, THERE'S LESS
Game predictably unwatchable, but seeing Kornheiser freeze his Tonys off during PTI live from blustery Qwest Field comedy gold.