For years — OK, a couple of days — Slate writer Robert Weintraub has been tinkering with a concept called The SSW, short for "The Sean Salisbury Wisdom," which tracks the consensus of the football punditocracy to ensure those triumphant declarations from Friday aren't flushed down the memory hole on Monday. Here's this week's SSW.
PREVIOUS SSW
Record-setting 24 point line not nearly high enough—get those bets down on the Pats, the only sure thing in gambling.
NEW SSW
Once again, a nation is bamboozled by A.J. Feeley. First came the news he was dating soccer hottie Heather Mitts, now he almost pulls off an all-time upset. Up until that idiotic last decision, he was in full-blown QB controversy land.
G/O Media may get a commission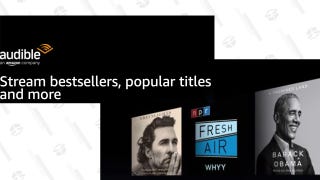 FREE
Audible Premium Plus 3-Month Free Trial
BUT WAIT, THERE'S LESS
Not buying into the "blueprint" talk—something tells me they will fall out of Greg's bag before he can deliver them to Mr. Brady's client. Still, the last time architects featured prominently in NFL analysis, it was after the Chargers supposedly showed everybody how to beat the unbeatable Colts in '05. Sure enough, Bill Cowher, Ben Roethlisberger, and Art Vandelay followed the instructions and whipped them in the playoffs. Not seeing it this time around, however, although hope springs eternal.
PREVIOUS SSW
The Vikings without Adrian Peterson are like the Beatles without Stu Sutcliffe—addition by subtraction.
NEW SSW
Looks like Mort was right back when he said Eli would miss a month with the bad shoulder—unfortunately for the Giants, he stubbornly insists on playing the games.
BUT WAIT, THERE'S LESS
Even worse for Eli, Ole Miss, where he hid comfortably in the old man's shadow for four years, blew a 14-0 lead in the 4th quarter and choked the Egg Bowl to arch-rival Mississippi State. The Bulldogs QB, Brent Schaefer, is stunningly reminiscent of Tarvaris Jackson as well.
PREVIOUS SSW
Steroids didn't make Todd Sauerbrun a macho punter. But defying logic and kicking to Hester will make the ladies take notice.
NEW SSW
Kick returners have become more reliable game breakers than injury-plagued quarterbacks and interchangeable running backs.
BUT WAIT, THERE'S LESS
The Chicago-Denver thriller perfectly encapsulates why the NFL is a dictatorship in modern sports—a meaningless game in the big picture, but one filled with big plays, enough drama to give Morbidly Obese Bill Conlin a coronary, played in the Windy City gloaming, before passionate fans, involving teams with basic dark blue and white unis, that totally popped off the TV screen. Sure the Super Bowl sucks every year, but games like these keep us riveted.
PREVIOUS SSW
Redskins beat the bad teams (Miami, Jets), lose to the good teams (Pats, Dallas). Team unsure how to prepare for Bucs, as they fall into neither category.
BUT WAIT, THERE'S LESS
Tampa had zero first downs in the second half, and gave up 300 yards. And still pulled it out. I know the sharp guys on my teevee keep telling us Jason Campbell is going to be A Great One, but to me he's a more athletic Jon Kitna, without the Holy Water. Kitna too can pile up some numbers, but can be counted on to make the killer turnover when you least need it. JC is showing the same disturbing tendency.
PREVIOUS SSW
Genius doesn't work according to your puny mortal "schedules"—if it takes half the season for the Jets to start to dazzle, then that's how it is. Don't rush Eric, he's being brilliant!
NEW SSW
Suddenly, Rich Kotite is looking pretty good in retrospect.
BUT WAIT, THERE'S LESS
Even vegetarians fell asleep watching the Jets on Tryptophan Day. Had this one been on NFL Network, Rich Eisen would have murdered Deion by halftime.
PREVIOUS SSW
Ricky's back! The 1976 Bucs should ready to crack their annual celebratory Everclear for when the last 0-fer team gets a W.
NEW SSW
How come a guy so find of the sticky stuff fumbles so often?
BUT WAIT, THERE'S LESS
Can Pittsburgh be traumatized by a hellacious beating the Patriots haven't even administered yet? Whither the Steelers' once formidable offensive line? Big Ben is getting his appendix beaten out of him back there. Meanwhile, mushy field reminiscent of '82 AFC title game, when Don "Asterisk" Shula purposely left tarp off Orange Bowl field so resulting quagmire would slow speedy Jets. A.J. Duhe, where are you?