For years — OK, a couple of days — Slate writer Robert Weintraub has been tinkering with a concept called The SSW, short for "The Sean Salisbury Wisdom," which tracks the consensus of the football punditocracy to ensure those triumphant declarations from Friday aren't flushed down the memory hole on Monday. Here's this week's SSW.
PREVIOUS SSW
Patriots suddenly vulnerable, yet in no way does it make them more attractive or likeable. Giselle doesn't go for that doe-eyed crap anyway—she's a frontrunner.
NEW SSW
Only way to slow Patriots is for opposing team to declare, "We have no chance" en masse to media in build up to game.
G/O Media may get a commission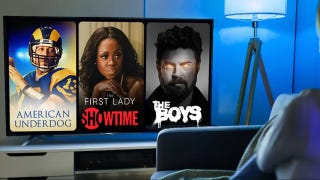 UNDER $1
99¢ Prime Video Channels
BUT WAIT THERE'S LESS
New England closing in on another unheard of feat—going through an entire game without calling a running play.
PREVIOUS SSW
D-Nabb is back behind center—let the winning return! Well, the limping, anyway.
NEW SSW
Philly fans will doubtlessly send Donovan off in his final few games as an Eagle with the class for which they are known.
BUT WAIT THERE'S LESS
Terrible pass interference non-call helps G-men to rare key wintertime win. No word on whether ref called Jason Avant "boy" after the play.
PREVIOUS SSW
Cue up that "San Diego Super Chargers" theme in SoCal, cause the Bolts are back in MartyBall form.
NEW SSW
LT asks Fisher for his money back after bounty hit mistakenly goes on Merriman and not Rivers, as requested.
BUT WAIT THERE'S LESS
If Tomlinson can somehow get through the next three weeks without taking a dump in his quarterback's locker, San Diego can still steal the three seed. That could be big if the Chargers thus avoid the Jags, who would give them trouble with their powerful lines.
PREVIOUS SSW
Visit by the midnight-moving Colts can whip Baltimore into an even angrier passion than the Patriots did.
NEW SSW
"Next Man Up" was written about the Ravens, but it's the Colts that embody the principle. A few minutes against the Pats and a missed chip shot FG, and they are the ones with their own "Pursuit of Perfection" category on the bottom line.
BUT WAIT THERE'S LESS
Brian Billick assures fans he will be back for another season of 3rd and 1 passes. Greater Bal-mer pleads for Omar Little to "take care" of that punk bitch before he re-ups.
PREVIOUS SSW
The only running going on in Motown will be when Millen and Martz are run out of town on a rail.
NEW SSW
Talented, deep, powerful, and now lucky too? All they need in Dallas are the spy cameras and you got the Patriots with a smoky BBQ flavor.
BUT WAIT THERE'S LESS
Detroit emptied the bucket as surely as the Ravens did against New England, and came up just as agonizingly (and predictably) short. It's enough to drive Kitna back to the bottle.
PREVIOUS SSW
The 23 months given to MV7 just enough time for Arthur Blank to line up a sucker to take this lemon franchise off his hands, just in time for the big release.
NEW SSW
If only Chris Redman had sold some draft insurance to the Saints, they might be able to profit off the Bush bust.
BUT WAIT THERE'S LESS
When Deuce went down, a lot of people thought Stecker would be a better call as every down back than Reggie. New Orleans would have been better off not trying to force plays onto Bush that he is ill-suited for, especially with Stecker around to run between the tackles.