For years — OK, a couple of days — Slate writer Robert Weintraub has been tinkering with a concept called The SSW, short for "The Sean Salisbury Wisdom," which tracks the consensus of the football punditocracy to ensure those triumphant declarations from Friday aren't flushed down the memory hole on Monday. Here's this week's SSW.
PREVIOUS SSW
Pats had their wake-up call, now it's look out 19-0.
NEW SSW
Is it not enough they are the best team, they have to get every break, too? A dumb timeout, a penalty that goes against the Pats saves their bacon, a couple of tipped balls fall to the turf, BS 4th down holding call—and then they convert when they absolutely have to. Every single time. It just makes you sick.
BUT WAIT, THERE'S LESS
Rare game when Pats were dominated on both lines, thanks to players like Haloti Ngata and Mike Flynn, guys who get little pub. Yet when the game is on the line, Brady gets all day, and Ravens couldn't get first downs.
G/O Media may get a commission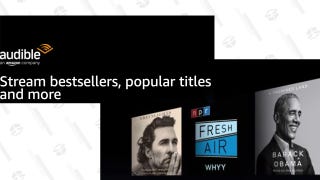 FREE
Audible Premium Plus 3-Month Free Trial

PREVIOUS SSW
Giants don't have to kick to Hester, but unfortunately for Big Blue, they can't keep the ball away from Manning.
NEW SSW
Antonio Pierce says Eli was "bred for this," and incredibly, ravenous tabloids agree.
BUT WAIT, THERE'S LESS
Instead of saying "spike the ball" in late-game situations when the QB grounds it intentionally, Buck and Aikman have been using the odious terminology "clock the ball." They're so insidery! Please refrain immediately. They did take proper notice of the great play by rookie safety Michael Johnson to stop a screen that could have been six in the final minute.
PREVIOUS SSW
Emotional Skins unlikely to run off five in a row for Sean, but woe be the punchless Bills this week.
NEW SSW
Any other time, Gibbs' Boner with the timeouts would be a sackable offense. But he gets to be doddering on this day.
BUT WAIT, THERE'S LESS
Everyone makes a big deal about how unfair it is for the team to have to turn around and play Thursday, but isn't getting out there and hitting better than sitting around being asked how tough it is to have to play?
PREVIOUS SSW
Crushed Cards sinking in the West after second loss to feckless Forty Niners.
NEW SSW
Lost in the shuffle Edge rises like Phoenix to remind club they can win by running—and a bunch of opposition blunders.
BUT WAIT, THERE'S LESS
Kellen "F-in" Soldier" Winslow makes an incredible catch, and refs job him. Does this mean the stripes don't support the troops? Seems to me that if a guy can get one foot down while getting clocked, it's reasonable to assume he might have gotten both down. But the "you can't let that call decide the game" codicil applies.
PREVIOUS SSW
Who needs Adrian Peterson with that studly offensive line? Even Tarvaris can look decent with Brady-like time to throw.
NEW SSW
Canny made-up injury (LCL? Whoever heard of that, anyway?) allows Peterson and Vikings to stay fresh for stretch run.
BUT WAIT, THERE'S LESS
C'mon, seven rushes the whole game? The Lions were a physical team on both lines for much of the season. Now they are getting whipped at the point of attack. Detroit played Damien Woody at right tackle Sunday, the third starter at the position this season, and the first time since high school Woody played tackle. Both tackle and guard were weakened. Now Roy Williams, their best offensive player, is out for the season. The ship be sinking.
PREVIOUS SSW
Garcia's injury keeps hope alive for Saints, who only have to beat LaTech Luke to get within a game of the division.
NEW SSW
Way to underthink, Sean. After all, it's been a while since anyone brought up Reggie's bonehead lateral in the college title game against Texas. Dust off that video, people.
BUT WAIT, THERE'S LESS
"Backporch Condom" Jerramy Stevens gets the winning TD. How is it Sheriff Goodell is allowing him to play, exactly?