For years — OK, a couple of days — Slate writer Robert Weintraub has been tinkering with a concept called The SSW, short for "The Sean Salisbury Wisdom," which tracks the consensus of the football punditocracy to ensure those triumphant declarations from Friday aren't flushed down the memory hole on Monday. Here's this week's SSW.
PREVIOUS SSW
Pittsburgh holds the inside lane for the #2 seed and the right to be obliterated in the AFC title game by New England.
NEW SSW
This is the high point of Kellen Clemens' career—too bad the team plays again on Thursday.
G/O Media may get a commission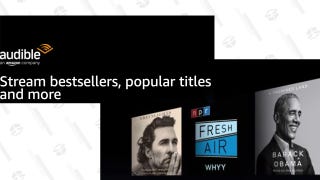 FREE
Audible Premium Plus 3-Month Free Trial
BUT WAIT, THERE'S LESS
The Jets laid a physical beating on the Steelers like few teams have in recent memory. Forget the ManGenius—let's see more of this ManGNC.

PREVIOUS SSW
Fired-up Buffalo crowd peacock-flexed into drinking hot wing frappes mixed with vodka all day will allow overmatched Bills to give Pats a test.
NEW SSW
Desperate media to continue search for any sliver of hope that Pats will play a game that isn't over by halftime.
BUT WAIT, THERE'S LESS
Just imagine the difference in this season if Moss was dealt to Green Bay, as almost happened, instead of to Foxborough. Perhaps the Pack would be unbeaten, and the media group grope of Favre would be so nauseating that we would all be longing for some character-free rival (Marinelli has the requisite "asked to kill for his country once too often" look) to steal their signals and whip them.
PREVIOUS SSW
League is so godawful that the Falcons still have a fairly legit shot at the division title.
NEW SSW
Vick overheard asking judge to let hours spent watching Sunday's game count as time served when he is sentenced.
BUT WAIT, THERE'S LESS
GADome fans were screaming hard for Joey to enter the game. Joey! Obviously, their brains have been seared by the Atlanta-area drought. Meanwhile, most area residents so turned off by Falcons they plan to stay with their families on Thanksgiving Day, instead of getting the hell out of the house and down to the Dome for the Colts game.
PREVIOUS SSW
In a league lousy with lousy QBs, the worst of them all is, sadly, the once proud and mighty McNair. And he still keeps Boller on the bench.
NEW SSW
New winning tactic—get player prayer circle going, pray for divine intervention, await miracle.
BUT WAIT, THERE'S LESS
This ending reminds me of the Dwayne Rudd game, for some reason, if only because that was one where fate treated the Brownies like the franchise just stole its woman. Remember that one, when Rudd ripped his helmet off in celebration, thinking the game was done, when in fact there were a few ticks left, and the ensuing penalty yardage gave the Chiefs the game-winning field goal? Those are things that used to happen to Cleveland before the Brady Quinn era began.
PREVIOUS SSW
Mike Martz's ignore the run style a strategic crown of thorns for the Jesus Bunch.
NEW SSW
Never rile a gap-toothed media hound playing for a contract when coming off an expensive divorce.
BUT WAIT, THERE'S LESS
Giants fell apart last season after Tennessee game, which felt similar to this one, except that this time, the G-Men managed to make a game-sealing defensive play, rather than choke away a big lead. This team just might be destined to...lose a first round playoff game.
PREVIOUS SSW
"Is he a real QB?" versus "Plug in any RB for a thousand yard season." Two utterly uninteresting and overplayed media memes collide—tonight at Invesco!
NEW SSW
Broncos have their noses in front of Bolts for AFC West, though SD destroyed Denver once and should do it again in Week 16.
BUT WAIT, THERE'S LESS
Mile High fans don't get to chant "In-Com-Plete" at Vince as much as hoped for—actually, VY played a strong game. But the Titans without Haynesworth just couldn't slow Cutler, who was so Elwayesque, he sold a dozen cars at halftime.