For years — OK, a couple of days — Slate writer Robert Weintraub has been tinkering with a concept called The SSW, short for "The Sean Salisbury Wisdom," which tracks the consensus of the football punditocracy to ensure those triumphant declarations from Friday aren't flushed down the memory hole on Monday. Here's this week's SSW.
PREVIOUS SSW
Super Bowl champs (who, incidentally, started last season 9-0, yet title was considered a surprise) utterly subsumed by Pats' run at unbeaten season. Which is proper, since no one can keep BeliCheat's boys under 38 points.
NEW SSW
Outhit, outthought, outraged, but still unbeaten. Pats won't have to find a way in last seven games—16-0 is a foregone conclusion.
G/O Media may get a commission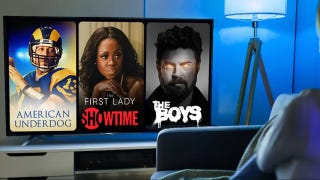 UNDER $1
99¢ Prime Video Channels
BUT WAIT, THERE'S LESS
OK, it was a big game, but let's not make it out to be the Tehran Derby between Persepolis and Esteghlal at the Azadi Stadium. Now that's a rivalry, usually one that involves stoning the losing team's bus. Also, RCA Dome unlikely to be carpet bombed by the USAF anytime soon. As for the Colts, had Antoine Bethea held on to sure pick one play before bomb to Moss turned the game, Indy is still celebrating.
PREVIOUS SSW
Jesus doesn't take kindly to mocking the less fortunate. He thought Kitna's Halloween costume was pretty funny, though.
NEW SSW
"FIRE MILLEN!" T-shirts still selling well, but only on Eight Mile, for $5 a throw.
BUT WAIT, THERE'S LESS
OK, so they beat the Bears twice, Oakland, Minnesota, Tampa, and a sliding Denver. Not exactly the Fab Five, but Detroit's physical dominance not to be ignored.
PREVIOUS SSW
Bolts have overcome Nonsensical Norv and are back in the AFC playoff conversation.
NEW SSW
Playoff advancement problematic, as San Diego is unable to win away from the smoky confines of home.
Meanwhile, here's the 2008 fantasy draft order—
1. Peterson
2. Brady
3. Moss
4. Tomlinson
5. Manning
6-150 Inconsequential
151. Rivers
BUT WAIT, THERE'S LESS
Remember that huge offer sheet the Vikes used to lure Steve Hutchinson from Seattle? Worth every dime. He and left tackle Bryant McKinnie erased a banged-up but formidable Chargers D. Even more impressive given the guys calling signals in purple.
PREVIOUS SSW
Bengals bitched out against Pittsburgh, and Buffalo is a house of horror for Cincinnati. Yet Cincy is favored by one in Vegas. Maybe the smart guys don't know anything about this league either.
NEW SSW
The QB situation is unsettled, the D is a bunch of no-names, and Methuseleh Marv is still working out the salary cap over daily bowls of tomato soup. But Buffalo is a ridiculous loss to Dallas away from a 5-game winning streak.
BUT WAIT, THERE'S LESS
Coughing clunker ambulance at Ralph Wilson Stadium actually broke down in tunnel transporting Ocho Cinco to hospital after fearsome hit. Now there's a handy metaphor for Cincy's collapsed season. How did Kevin Everett get to emergency surgery, anyway—Marshawn Lynch's injury cart?
PREVIOUS SSW
Put those tarps over the passing section of the Jaguars' playbook.
NEW SSW
Brees had a fantastic preseason, then a rusty first four games, now he's back in midseason form. Forget all that voodoo burial stuff, and buy the QB a dayplanner.
BUT WAIT, THERE'S LESS
Saints are back to semi-feelgood status, but Sean Payton has one of those insipid coach mantras—"Don't eat the cheese." Pass the Lactaid. Can't anyone just win with a little dignity anymore?
PREVIOUS SSW
Last chance for Ray Lewis and supposedly badass Ravens D to show national audience they still have some bite.
NEW SSW
Bal-mer almost as disappointing as the Bengals. Brownies, with talent reminiscent of Cincinnati circa 2004, only team keeping AFC North interesting.
BUT WAIT, THERE'S LESS
Joey Vegas waves goodbye, James Harrison takes over as dominant force off the corner. Pittsburgh has unending chain of stud linebackers, while multiple teams haven't had one in years. Must be something in the water created by the confluence of the Three Rivers.