For years — OK, a couple of days — Slate writer Robert Weintraub has been tinkering with a concept called The SSW, short for "The Sean Salisbury Wisdom," which tracks the consensus of the football punditocracy to ensure those triumphant declarations from Friday aren't flushed down the memory hole on Monday. Here's this week's SSW.
PREVIOUS SSW
Tony Romo can't wait until tomorrow, because he gets better looking every day.
NEW SSW
Injured thumb, underperforming team, a plenitude of horse collars, and a potential January trip to Lambeau looming as a giant cockblock. Relax—there's always Ashlee.
BUT WAIT, THERE'S LESS
Once Andre Girode went out with the injury, the Eagles attacked the middle of the Cowboys line with blitzes and stunts, and the Dallas offense was on skates. Maybe one day, somebody will write about the importance of the center in the NFL.
G/O Media may get a commission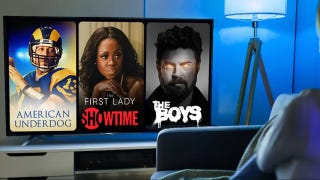 UNDER $1
99¢ Prime Video Channels
PREVIOUS SSW
Wind and rain will cause the Patriots pain, cause they can't hardly make a gain, as their running game is on the wane.
NEW SSW
Who needs Brady? Maroney will carry the Pats past the opposition when the Nor'easters come to Foxborough.
BUT WAIT, THERE'S LESS
It's one thing to get 100+ against the Jets, although David Harris is some player. But they'll be sweating any game when they cannot throw it unabated. Just like they sweated this one, only to make a couple of plays at winning time. Unfortunately, the Jets need a new battery for their watch.
PREVIOUS SSW
Ravens defense is so emotionally exhausted (and morally bankrupt) they barely have the strength to get pissed at their own offense anymore.
NEW SSW
Miami's first win comes on a long catch-and-run by a white receiver? I thought they dealt Wes Welker. I guess that's why Huizenga was weeping in the owner's box.
BUT WAIT, THERE'S LESS
Perhaps Garo Yepremian put the whammy on the usually reliable Matt Stover in OT. Happiest over this result are the Bengals, who are spared the pressure of facing the 0-15 Fish in Florida on the season's final week.
PREVIOUS SSW
After drooling buildup over potential foul weather, only conditions that would daunt Shackleton enough for Bills-Browns tilt.
NEW SSW
Jamal "4 Months" Lewis no stranger to dealing with large amounts of snow, so it's not surprising he was effective in polar atmosphere.
BUT WAIT, THERE'S LESS
Actually, the most astounding weather-affected game was in Charlotte, where the Panthers', playing with a lineup that wouldn't scare Independence High, took down the red-hot 'Hawks. Matt Moore, the Panthers QB, couldn't even start at UCLA, yet he could cost Seattle the three seed.
PREVIOUS SSW
God is doing the get-up-right-when-he-sits-down diss LT pulled on Rivers to Jon Kitna.
NEW SSW
Norv overheard cackling "Marty Who?" post-game. Remember when it seemed Marinelli was a much better coach, and Millen a better G.M. than A.J.?
BUT WAIT, THERE'S LESS
The Lions hauled it a whole nine times. "We didn't earn the opportunity to run the ball more," quoth Rod Marinelli. Ahh, now it makes sense—letting Kitna throw and throw is a punishment for the team.
PREVIOUS SSW
Vikings behind 1-2 running punch are the third-best team in the NFC, regardless of who is "managing game" behind center.
NEW SSW
If the third-best team needs a fluke broken play to beat a whipped Bears team led by a guy who hasn't played in two years, than how fugly is the fourth-best team?
BUT WAIT, THERE'S LESS
The Vikings should be Jacksonville-lite, with the same strengths and weaknesses. Can Gerrard be that much better than Tarvaris? Perhaps. Minny will be a trendy playoff upset pick, but they'd best tighten up the ship in coverage and on the offensive line if they are to make some noise in January.