EM>For years — OK, a couple of days — Slate writer Robert Weintraub has been tinkering with a concept called The SSW, short for "The Sean Salisbury Wisdom," which tracks the consensus of the football punditocracy to ensure those triumphant declarations from Friday aren't flushed down the memory hole on Monday. Here's this week's SSW.
PREVIOUS SSW
Lovable Brownies have division title within their grasp, thanks to pluck, luck, and Pittsburgh folding like an accordion.
NEW SSW
The Derek Anderson Experience begins and ends with the Bengals.
BUT WAIT, THERE'S LESS
Cincy, typically, did everything they could to hand a miracle comeback to the Browns, with an incompetence bordering on criminality in the second half. But Derek and his Falling Dominoes wouldn't take it. Even the charmed Phil Dawson couldn't make good on a botched snap, an early indicator a brutal day was in the offing.
G/O Media may get a commission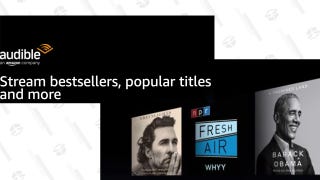 FREE
Audible Premium Plus 3-Month Free Trial

PREVIOUS SSW
Imported Tuna plus foul weather plus win over Ravens plus 1972 karma equals Miami being given a puncher's chance at the mighy Pats.
NEW SSW
Perfect (regular) season a foregone conclusion, just as it has been since Colts game. But 16-0 only makes a playoff loss that much sweeter for all who despise them.
BUT WAIT, THERE'S LESS
Parcells will have a lot of talent to import, but the Fish who remain behind have guts aplenty.
PREVIOUS SSW
Choking Giants realize you can't spell Coughlin without 'cough."
NEW SSW
Big Blue can't wait for playoff game at Tampa, where Eli can chillax and play without Vinny from Hackensack screaming for his entrails after ever incomplete pass.
BUT WAIT, THERE'S LESS
Forget the pouring rain—as Jason Peters goes, so goes the Bills offense. Once he went out, Buffalo spun its wheels on the wet ground. Not a problem for Ahmad Bradshaw, who called his shot in the huddle before the 88-yard sprint that iced the game.
PREVIOUS SSW
Tony Romo seen pricing mink coats for Jess, prepping for the trip to Lambeau that Dallas suddenly might face for the NFC Title game.
NEW SSW
After icy debacle in Chi, Pack happy to play anywhere outside winter wonderland.
BUT WAIT, THERE'S LESS
Not since Sean Landeta's whiff of a attempted punt in '85 (also in the Windy City) has a punting game been so tragicomic.
PREVIOUS SSW
Tragedy and confusion mark Joe Gibbs' (mercifully) last season as head man in D.C.
NEW SSW
Only a coach who sat in the front row of the old school like Gibbs could have his club playing better after a star player is murdered.
BUT WAIT, THERE'S LESS
Todd Collins doing the best job of replacing an injured QB and reinvigorating his team since a guy named Brady did it in 2001. OK, that's hyperbole, but this isn't—all neutral fans should be happy at Washington's renaissance, as the Vikings would make for an unwatchable playoff participant.
PREVIOUS SSW
San Diego finally back to being the team that can look forward to disappointing everyone in the playoffs.
NEW SSW
The pride of Santa Claus, Indiana takes a beating on X-mas Eve. Does that mean the Chargers are part of Bill O'Reilly's War On Christmas™?
BUT WAIT, THERE'S LESS
Good to see the hatred flowing out there, instead of the kissy-face and prayer circles and "we're all one big union out there." On the other hand, Rivers taunting anybody is like Jamie Lynn calling your girlfriend a skank.