For nearly two decades, Sports Illustrated has stirred the tea leaves to discern a weekly Sign of the Apocalypse. Deadspin salutes the magazine's ongoing effort to cover the end of times but declines to cede the scoop on the biggest event in world history.
Jokic? Embiid? The NBA MVP is obvious... right? | Keep it a Buck(et)
Here's SI's Sign of the Apocalypse this week:
A Notre Dame fan in Chicago asked for Likes on a special Facebook page he set up to help him persuade his wife to name their soon-to-arrive daughter Manti.
Through the magic of not-print, we can link to the page here and reveal, in what must come as a relief to Apocalpyse-watchers everywhere, that the gentleman who deployed a stunt page in an effort to persuade/manipulate his wife into naming a baby girl after a linebacker has enjoyed a change of heart. The couple have chosen "a wonderful name" that is neither "Manti" nor, alas, "Te'o." Presumably it's as good as Billy Ray Cyrus' attempt to honor two Notre Dame legends by naming his own daughter Hanna Montana.
The week was chockablock with similar dark portents. A Dutch soccer team released a player after he was arrested for being a "wildpoeper," the etymology of which you may actually guess. Morgan State football coach Donald Hill-Eley received an email apparently not meant for him, detailing the university's plans to find his replacement. The New York Post called Derek Jeter fat.
G/O Media may get a commission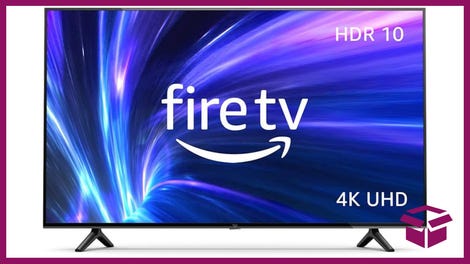 42% Off
Amazon Fire TV 50" 4K Smart TV
All of these are appropriately doomsday-worthy, but we're going with this as Deadspin's Sign of the Apocalypse:
At least 112 Bangladeshi textile workers died in a factory fire, the deadliest such blaze in the country's 35-year history of clothing exportation and one made worse by the lack of emergency exits in the eight-story building.

Factory fire in Bangladesh ignites scrutiny over working conditions, overseas practices [AP]