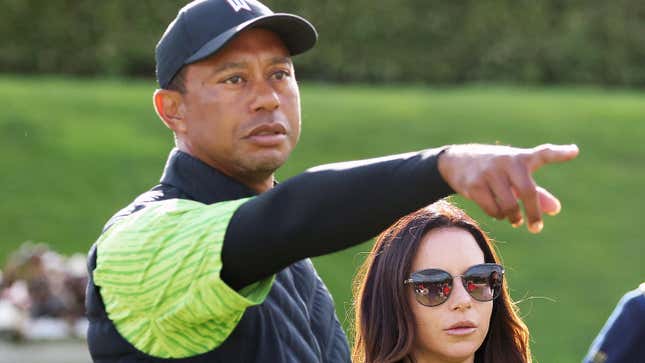 A past girlfriend of Tiger Woods must continue to abide by a non-disclosure agreement she allegedly signed and must continue any attempts at attaining millions from one of the best golfers of all time from private arbitration. No, this isn't the one Woods took Ambien for to spice up their sex life over a decade ago. It's not Lindsey Vonn either.
Is Tiger Woods the biggest loser in the PGA-LIV Golf merger? | Agree to Disagree
Florida circuit judge Elizabeth Metzger reportedly rejected Erica Herman's attempt to dismiss the 2017 NDA between Herman and Woods by stating he'd committed sexual harassment against her. Metzger reportedly called Herman's allegations "vague and threadbare." The duo were most recently seen in public together at last year's tennis U.S. Open, while still a couple nearing the end of their six-year relationship. Things have obviously gone south since then.
"Herman has had the opportunity [to] provide factual specificity for any claim relating to sexual assault or sexual harassment, however, she has not done so," Metzger's 11-page opinion stated.
Herman isn't the only ex-girlfriend of Woods' to take him to court over an NDA, as Kristin Smith did a few years back, claiming Woods was unfaithful. It's more than Rhianna singing about it at this point. Seems to be a trend with Woods. In this case, Herman allegedly sued both Woods personally and the trust that owns his $54 million Florida mansion. She was seeking $30 million in nonspecific sexual harassment claims from the trust and an unspecified amount from Woods himself. Woods' net worth according to Forbes is around $1.1 billion. Compared to the SUV fiasco that torpedoed the prime of his golf career, this matter sounds cut and dry.