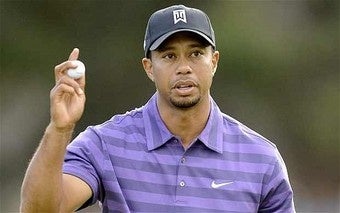 Yeah, so Tiger Woods apparently "looks like his old self at the Chevron World Challenge." Translation: he's 13-under 131, his best 36-hole score this year by six shots.
And the four-shot lead over U.S. Open champion Graeme McDowell had to be a refreshing change for a guy who has been at least nine shots back through 36 holes in seven tournaments this year.
"I've been here before, so it's not a strange feeling," Woods said. "It's just one of those things where tomorrow is the same game plan, just go out there and plot my way along and take care of the par 5s." [Golf.com]
Woods and McDowell were slated to tee off in the third round at 10:55 a.m. Ain't televised till 3 p.m. on NBC, though.