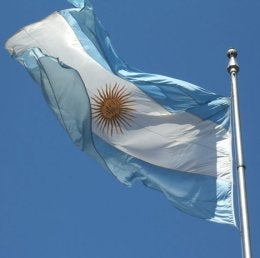 Playing alongside Tiger in the day's final pairing, Aaron Baddeley set the tone for the day with a triple bogey. He hasn't been able to stop the bleeding since ... He started at +2, and is now at +8.
Atop the leaderboard? Angel Cabrera, who, combined with Manu Ginobili's NBA championship a few days ago, could make this a banner week for Argentinians in American sports. I didn't appreciate it on the 6th hole, though, when playing partner Stuart Appleby bumped into Cabrera, and he flopped to the ground. It's just unsportsmanlike.
We can't ignore the adventures of Steven Ames, either ... who went from having a one-stroke outright lead on one hole, to trailing by three the next. And then he followed that with a double bogey.
As for Tiger, he's plugging along ... one back, grinding out his Tiger pars and nipping like he's in a wet t-shirt contest in Buffalo in February. Caddie Steve Williams does a lot of things very well, but nipple-warming is not one of them.
After the 8 holes for the leaders, the leaderboard says it's very much up for grabs, but Tiger Woods and Angel Cabrera (possibly Jim Furyk, too) appear to be the only two golfers on the course who aren't totally mindfucked.