Tim Donaghy, the former NBA referee who spent 11 months in prison for relaying inside information to gamblers, is reviewing the performance of his former colleagues during the NBA Finals. Here's a quarter-by-quarter breakdown of Game 6, with video.
Game 1 | Game 2 | Game 3 | Game 4 | Game 5 | Game 6 | Game 7
A great night for everyone, except the Celtics. The NBA gets a coveted Game 7, and basketball fans get a cliffhanger. It was a great night for the refs, too. They got the pleasure of a blowout, making their lives a whole lot easier.
FIRST QUARTER

12:00 The jump ball is redone. The players aren't supposed to tap the ball until it hits its apex. Nine times out of 10 the ball is tapped before this point, and nine times out of 10 it's ignored. It was ignored on every jump ball in every other game.
G/O Media may get a commission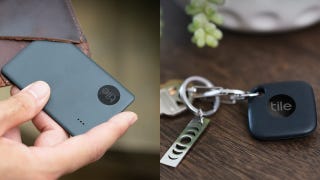 Up to 35% off
Tile Item Trackers
10:10 [BOS 6-4] Derek Fisher drives the baseline and gets fouled. This should've been a shooting foul but the ball was given to L.A. on the sideline.
8:50 [LAL 9-6] Rajon Rondo flops at the free throw line after Pau Gasol "bumps" him. Good no-call.
6:37 [LAL 14-12] The ref gets this one half-right. Rondo beats Fisher off the dribble, and Fisher hip-checks him. But Boston gets the ball on the side instead of a shooting foul — just as L.A. didn't get free throws after the foul at 10:10. Referees will discuss these type of plays at dead balls and try to remain consistent.
3:32 [LAL 23-16] Rasheed Wallace pushes off to get the rebound. Correct call.
3:24 [LAL 23-16] A correct call on Ron Artest. Look at the official under the basket, though. He blows his whistle with no angle to see the play. The official on the other side of the floor has a clear look at the foul and calls it. The guy under the basket has no idea if the defender gets all ball. A referee can get into trouble calling a foul like this without a good angle.
1:49 [LAL 26-18] Paul Pierce hits Gasol in the face. This is a quick foul and always happens so fast. If an official misses it initially but sees a player reach for his face, as Gasol does, he'll know there was a foul. Players never grab their faces during live play.
:23.0 [LAL 28-18] Good no-call as Wallace backs up and allows Gasol to fall back. Some officials will be fooled and whistle a foul on Wallace, thinking that he pulled Gasol.
SECOND QUARTER

11:00 [LAL 30-21] Doc Rivers is all over the refs after Allen seems to get bumped on his jump shot. He's been doing a lot of complaining to this point.
9:31 [LAL 32-20] Glen Davis comes from the weak side and fouls Bryant, causing Bryant to lose the ball. This needs to be called.
9:01 [LAL 32-20] Wallace fouls Lamar Odom. He gets ball but then rakes Odom's arm on the follow-through. Correct call. Wallace then screams, and if this weren't the NBA Finals — and if he didn't have six technicals — he might've gotten T'd up.
8:18 [LAL 34-22] Davis fouls Odom on this shot at the hoop. Missed call.
7:49 [LAL 36-23] Gasol fouls Kevin Garnett. He walks up and into the airborne Garnett, causing him to misfire on the jumper. Foul missed
6:15 [LAL 40-23] Not much of a foul on this play at the hoop. Looks like a good block. Maybe it has something to do with L.A.'s 17-point lead?
2:47 [LAL 49-29] Another foul to the face. Notice the delay from the official, who only blows his whistle when Garnett reaches for his face.
2:27 [LAL 49-29] Ball goes off Boston, but the Celtics get it back anyway. When NBA teams fall behind 15-20 points, fouls and out-of-bounds calls often start going their way. This is a missed call.
2:17 [LAL 49-29] Garnett hits the ball on the way up. This is illegal — "stealing the tap," as referees call it.
:36.0 [LAL 49-31] Gasol is fouled on this play, but no whistle comes — another example of not getting a call because of the wide margin in score.
THIRD QUARTER

11:51 [LAL 51-31] Illegal screen. Davis isn't set when he causes contact.
7:14 [LAL 55-38] Odom is held on this rebound. No foul called.
4:29 [LAL 62-45] This is a foul, but notice the official's delay in blowing the whistle. Had Bryant fought through this foul and scored, it would've been ignored (again, because of the score).
2:03 [LAL 70-51] Cheap foul whistled on Bryant on the drive by Rondo. In a close game, this call never would have been made.
1:18 [LAL 70-51] Artest hits Rondo with a forearm. Odd that this foul is missed with Boston down 19.
:01.4 [LAL 76-51] Gasol is fouled by Davis, who walks up and into him while he's shooting.
FOURTH QUARTER

11:19 [LAL 76-51] Hard foul by Wallace — a hard shot to the head, possibly flagrant. The referees will put this in a report and have the league look at it.
6:56 [LAL 80-56] Jordan Farmar is fouled by Wallace on his drive. No call.
6:31 [LAL 80-58] Bryant is grabbed on this play, but the officials don't call anything. He then complains and gets a technical foul. It's always a bad situation for an official when he clearly misses a play and then compounds the mistake by hitting the player with a technical foul. (If the official knows right away that he blew a call, he'll let the player complain more.) The league will look at this and discuss it with the official.
6:05 [LAL 80-59] Quick whistle on Ray Allen. Bryant's complaining pays off, and maybe the official now realizes he blew the call at 6:31.
Tim Donaghy is a former NBA referee and the author of Personal Foul: A First-Person Account of the Scandal That Rocked the NBA. Follow him on Facebook here.
Video editing by David Matthews.