Tim Lincecum just finished the second no-hitter of his career in today's game against the Padres. He threw 113 pitches in nine innings, striking out six and walking one.
Big Time Timmy Jim's no-no wasn't quite as inexpressibly ridiculous as the one Clayton Kershaw gave us last week. The Padres are butt and built to hit weak grounders, Lincecum only induced 12 swinging strikes, and he only threw a first-pitch strike to 14 of the 28 batters he faced. But whatever, who cares about all that, it's just awesome to see Tim Lincecum doing cool things again.
He's spent the last three years transforming from one of the greatest starting pitchers in the game into one of the very worst, all while pitching every five days and becoming a reminder that a pitcher doesn't need a catastrophic injury to become truly broken. It's nice to see a guy like Lincecum get a day in the sun every now and then.
G/O Media may get a commission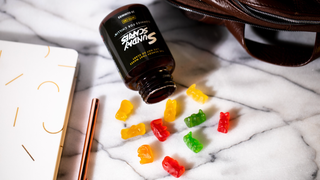 10mg CBD Gummies (22-Count)
He did not enjoy his Gatorade bath, though: