We're doing a season-long NFL roundtable with our friends at Slate. Check back here each week as a rotating cast of football watchers discusses the weekend's key plays, coaching decisions, and traumatic brain injuries.
« Previous entry | Next entry »
From: Luke O'Brien
To: Daniel Engber, Barry Petchesky
Here's the problem with comfort food, Barry: If you eat too much of it, you die. After 12 weeks of devouring the NFL's mac 'n' cheese, I am near cardiac arrest. I long for deviance in my diet. I hunger for things like umeboshi onigiri (sour plum seaweed-wrapped Japanese rice balls). Tim Tebow has been my seaweed-wrapped Japanese rice ball up to this point. He's an amazing story, one who exists beyond the reach of the NFL's marketing arm, even as the NFL attempts to capitalize on him. The Broncos game was the only one last weekend that I really wanted to watch. And mainly I wanted to watch it to see if God might serve Tebow his comeuppance. (There, I'm not ashamed to admit it.)
G/O Media may get a commission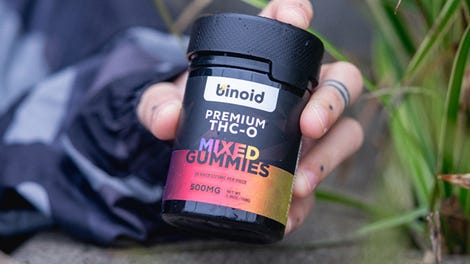 25% Off + Free Shipping
Binoid THC-O Gummies
My gripe isn't so much about what happens on the field. Almost every week, I find some feat of creativity to appreciate, but usually it stems from a play call instead of a ball play. As Nate Jackson pointed out last month, athletes in the NFL are toy soldiers to be moved around the field by pretend-generals. In that context, spontaneity is permitted when the system allows. Which isn't very spontaneous. That's not to say ad-libbing in the NFL doesn't happen. It just happens when the system breaks down. Unsurprisingly, those are always the best moments.
My problem with the NFL, rather, is the way I am forced to experience it. Barry's Cats-on-tour analogy is appropriate. When I was 10, I thought Cats was great. As a sentient adult, I'd be able to sit through it once or twice before stabbing myself in the face. The NFL is a relentless neurotransmitter-hijacking, commodity-pushing pipeline to your brain. At this point in the season, I feel like I've been hogtied inside the Mall of America inhaling Cinnabon fumes for four months. Hence the spectator fatigue. To watch what I want to watch, I have to wade through too much scripted consumerist dreck.
So let's talk about fairness again. We spent some time discussing the subject with the overtime coin toss. Yeah, the coin toss isn't fair. And, no, I don't care. Fairness doesn't exist outside the lab, no matter how many capuchins you bandy about, Dan. After all, it's not fair that I have to sit through three-and-a-half hours of hooey to find 11 minutes of mac 'n' cheese waiting for me. My point was that I require unscripted events, if for no other reason so I can yell about them and experience an emotion that hasn't already been focus-grouped and market-tested by the NFL. Because sports is about emotion. This year, Tebow has gone off-script and given us plenty of the stuff. Last year, we had Michael Vick. Rice balls, Dan. Rice balls.