We're doing a season-long NFL roundtable with our friends at Slate. Check back here each week as a rotating cast of football watchers discusses the weekend's key plays, coaching decisions, and traumatic brain injuries.
« Previous entry | Next entry »
From: Nate Jackson
To: Tommy Craggs, Stefan Fatsis
Tommy, I'm going to spare everyone my X's and O's esoterica. And frankly, X's and O's are boring. I spent too many years zoning out on coaches, and, believe me, things would get more confusing, not less, if I started in on the chalkboard. I will say simply that Tim Tebow looked strikingly different from the quarterbacks we have grown accustomed to watching on television. He lacks those quarterback things that we love, or that we're conditioned to love by analysts such as Jon Gruden: tight footwork, efficient throwing motion, precision craftsmanship, pocket presence, predictability. Tebow is a study in the opposites: bad mechanics, slow delivery, happy feet, poor defensive-recognition abilities, wobbly balls.
G/O Media may get a commission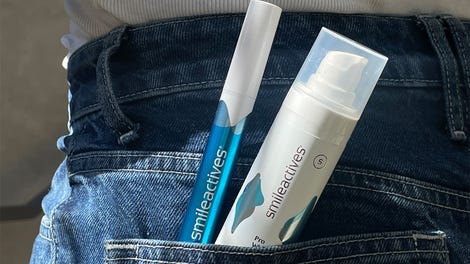 58% off
Whitening Powerhouse Pen & Gel Duo
Tebow is not a Jon Gruden kind of player. Sure, he might trumpet Tebow's competitiveness and his will to win and all those intangibles, but I'd bet that a large part of him is rooting for Tebow to fail. After all, a quarterback like Tebow is a living affront to that secret knowledge, possessed primarily by a fraternity of former coaches and players who now talk on TV for a living, of what it takes to succeed in the NFL. A successful Tebow is a quarterback who craps all over the conventional football wisdom, and this has the football world very afraid.
Once upon a time, fans were free to watch football games with their own eyes. They drew their own conclusions based on what they saw. (Remember this experiment?) They found their own heroes, and when they didn't—when the heroes came pre-made, via NFL Films—they at least saw the game from the players' vantage point. Now we are told by analysts what to look for and what we just saw. We are told why a team won and why a team lost. We are told who is in trouble and who is in the clear. And we are guided through the dark labyrinth of football chaos by voices we have learned to trust because of their football vocabulary and their service to the sport. They teach us a great deal, but they also teach us to think like coaches. They pretend to have answers for everything, and here they fail us.
Because when we run back the tape of any play, we can see the coverage and we can say: "Tim Tebow needs to see that blitzing Will linebacker and audible out of this play. Look at all of this room he has over here to work with. That's something that he's got to see if he's going to be a successful quarterback in this league." And there it is. This is what he has to do to be successful in this league. There is no way around it. This is what football must look like.
And this goes back to practice. Voices like Gruden's—I use Gruden as an example because I think of him as the gold standard of modern football punditry, and based on his contract extension, ESPN evidently agrees—were developed and refined at practice. Coaches believe that there is only one way to win in the NFL: execution. This word is beaten into the brains of NFLers over and over again. The quarterback must be the executor-in-chief. His job is to act out the dreams of his coach. He's the vessel; his coach jumps inside and operates from within. This is what gives coaches confidence going into a game. The more accurately their vision is enacted, the better they'll sleep at night in the run-up to games. So they script every play in every practice. Every scripted offensive practice play has a corresponding scripted defensive play that is designed to give the quarterback a look that he may see in the game. The goal of the coaching staff during game week is to script out every possible scenario versus every possible offensive play, so nothing comes as a surprise on game day.
But after all this obsessive preparation comes the chaos of Sunday. Surprises are bursting from every angle. The coach is helpless on the sideline. His head has split open, and bats are flying out. He is bleeding from the eyes. The game will unfold despite him, and after it is over, the coaches will race to their offices to watch it on film, confused by what has just taken place. They truly have no idea what happened until they view the tape. Then after the film viewing, everything makes sense again. They can figure out what went wrong and why. They will compile thorough notes to pass out to the players when they come back to work, and the players will be graded on their execution. The weekly cycle begins anew. It's a damned drag.
I am hoping and waiting for a brave coach to put in some plays called "Get Open" and "Throw to Whomever the Fuck You Want." Those plays will work. I'm sure of it. When things are right, there's a telekinesis on the football field that supersedes everything. I've felt it. And I've felt the triumph of flawless execution. I'll take the magic over the execution any day. The magic is Tim Tebow's milieu. The flawless execution is not.
Monday night's game between the Ravens and Jags was a perfect example of the limits of an execution-based offensive system. The Ravens, like every other NFL team, are full of dynamic athletes, but their offense looked like garbage against Jacksonville. Coach John Harbaugh rightly said after the game that it was the worst offensive performance he had ever seen. "It was a lack of execution," he said. But I watched the game. They were executing. They did exactly as coached: They ran the plays that were called, and they were hamstrung by the rigidity of their offense. When a play is called, the receiver runs it, even if the route plays into the defense's coverage. There is no flexibility within these systems. All any of those receivers had to do was break rank and run by one of those squatting corners and he would have been alone in the end zone. The Ravens needed to allow for a little magic.
Which comes back around to Solomon Wilcots's comments and his praise for the ineffable virtues of Tebow. That's the thing, Craggs. We're all too smart for God these days, and to believe in Tim Tebow is to believe in God in a world that tells us that both are an impossibility. Well, screw the world. We need some new heroes.
So Stefan, who are your heroes? Tebow? Janikowski? Alfred M. Butts?
Nate Jackson played tight end for the Denver Broncos from 2003 to 2008. His writing has also appeared in Slate and The New York Times. He is working on a book about life in the NFL.