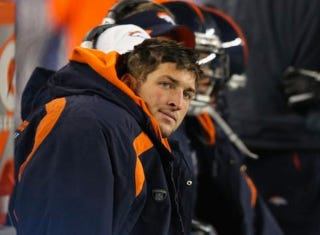 Your morning roundup for Jan. 15, the day we learned old drawings of space are actually pretty awesome. Got any stories or photos for us? Tip your editors.

What we watched: The inevitable end of the Tebow train. The New Orleans-San Francisco game was obviously the better game, but Denver-New England was equally compelling. For a second. The thing about the way the Broncos have played with Tebow of late is that it allowed anyone so willing to suspend their disbelief. "They can't really hang with the Patriots." "Yeah, but have you seen what he's been able to do? You never know." This is the real Tebow Legacy—and it's why we love sports.
Not because we want to see Tebow fail and not because people call him a "winner," "gamer," "underdog" or any other euphemism for "not very good." We love watching sports because we love watching crazy shit happen. Sometimes that crazy shit is a wildly over-matched team beating its superior. Tebow and the Broncos piloted that roller coaster ride for half the season and made people think that the crazy shit happening before their eyes was actually more than just crazy shit happening before their eyes. It's true, you never do know, even when you should know better. There's no way the Broncos had a chance but even the most die-hard anti-Tebowists out there couldn't have felt completely confident saying that going into the game. There is always that doubt—or hope, depending on your perspective—that something crazy and inexplicable will happen (Like Alex Smith and Vernon Davis looking like Steve Young and Terrell Owens). Eventually though, it becomes too much to handle and we want the world to right itself and last night it finally did.

What we're watching (all times EST, unless noted): Football: Texans at Ravens at 1:00 p.m. (CBS) and Giants at Packers at 4:30 p.m. (FOX). NBA: Phoenix at San Antonio at 9:00 p.m. (ESPN) NHL: NY Rangers at Montreal at 7:00 p.m. (NBCSN). College Basketball: Georgetown at St. John's at 12:00 (ESPN3), Georgia Tech at Maryland at 4:00 p.m. (ESPN3) Indiana at Ohio State at 4:30 p.m. (CBS), Duke at Clemson at 6:00 p.m. (ESPNU), UCLA at USC at 9:00 p.m.
Read Me
Smells like live music: "There is plenty of live Nirvana already available to us: the half-hearted-feeling rush job that was From the Muddy Banks of the Wishkah in 1996; the commercial release, last year, of the beloved bootleg Live at Reading; the Unplugged record. But the joy of Live at the Paramount is hearing the charge of this moment: a great band newly famous, still reeling and flooded with nervy adrenaline. Every single song on this setlist has already been featured once, or more, on some other Nirvana live record. But it's still invaluable. Kurt's voice sounds remarkably powerful here: He sang in a way that was obviously unsustainable, even with the aid of heavy cough syrup, and there's a thrill, although a slightly selfish one, of hearing his voice rip the air before he had begun to scream it down to the threads. His peculiar, yowling phrasing may have been a deliberate choice, or it might have been the only way he managed to wrangle those notes from a constricted voice box, but there is a terrible, riveting intensity to it: Words feel torn from him, bearing fishhooks on their way out. 'Aneurysm''s 'Love you so much/ It makes me sick' becomes 'Laahve yeww sowl much et makes me SECK.' It physically hurts to hear, as it always has, but it gives you some of the most committed, clear performances of Nirvana's canonical songs as you're likely to get. There is some time-capsule fun to have listening to Paramount— one of the biggest cheers is for 'School'! Krist Novoselic makes a wince-inducing 'Smile, you're on "Candid Camera"' joke! But the album's queerest, and most fascinating, punk-rock sociological moment comes from the protracted lead-up to 'Smells Like Teen Spirit', which was already the elephant in the room. You can practically see the feet-dragging and hand-twisting that leads up to it, like antsy kids being herded into Sunday service." [Pitchfork]
Elsewhere
Josh McDaniels, pissing people off in new and interesting ways: "The NFL will look at that situation in the offseason and determine whether there needs to be a rule blocking coaches from making same-season moves from one franchise to another, league sources told ESPN Saturday. A few clubs lodged complaints about how McDaniels, the offensive coordinator in St. Louis, was able to go from the last-place Rams to the first-place Patriots staff in a matter of days. A league spokesman noted that the competition committee always discusses matters generated by clubs. Another league source noted that the NFL Coaches Association had pushed for the change that enables most coaches whose contracts expire to become available the second Tuesday after the assistant's season finale. The league source noted, however, 'I'm not sure we ever contemplated the McDaniels scenario, and it will have to be discussed within the competition committee.'" [ESPN]
And they beat Notre Dame without him anyway: "'I called him out of the meal and I told him,' said Huskies coach Jim Calhoun, who missed the first three Big East games this season because of an NCAA suspension. 'He was in my arms and talking about the 300 people who were coming to the game to watch him play. But I will tell you that nothing is going to injure or hurt Ryan Boatright. I have nothing to say about it. I feel about it, but I have nothing to say.' The team dedicated the game to Boatright, who is from nearby Aurora, Ill., according to teammates Roscoe Smith and Napier. Boatright, a speedy 6-foot guard who has averaged more than 10 points and three assists in 10 games, was suspended for the first six games of the season for an infraction that involved accepting a plane ticket last year while he was playing AAU basketball." [AP]
Your boats not working properly Interlude:
Out, with a nasal strip: "Meb Keflezighi remembered to wear his nasal strip this time, then made some history at the U.S. Olympic marathon trials. The Eritrea-born Keflezighi won Saturday's race in a personal-best time of 2 hours, 9 minutes and 8 seconds to qualify for his third games. At 36, Keflezighi is the oldest winner of the trial and the first man to win the event and the New York marathon (2009) in his career. A spectator handed Keflezighi an American flag in the final mile on Saturday, and he waved it and pumped his fist to the cheering crowd as he approached the finish line. 'It was just a magical moment,' Keflezighi said....Keflezighi, the silver medalist in the Athens marathon in 2004, was the only man entered Saturday who ran in the New York City Marathon in November. He finished sixth with a personal-best time (2:09.13), then developed an infection in his left foot, the result of leaving a nasal strip in his shoe, part of his pre-race ritual. He missed three weeks of training, and felt fortunate he was able to get ready for Houston in time. Keflezighi relied on his longtime coach, Bob Larsen, to hand him the nasal strip before Saturday's race." [SI]
Occupy this RV: Beef, booze and babes-it's the ultimate Giant playoff road trip. A Wall Street fat cat has paid a ridiculous $240,000 to fund a rolling party on wheels in a luxury packed RV that is making the 20 hour trek to Lambeau Field for Big Blue's matchup against Green Bay tomorrow. Joining the road trippers are two beautiful waitresses, a driver and even the executive chef at Old Homestead Steakhouse, which sold the trip.Peter Serafin, 57, a married, Manhattan-born Green Bay Packer fan, is taking the trek with five diehard Giant fan pals. The crew is riding high on the hog with hundreds of pounds of prime beef, lobster, shrimp, caviar and enough booze to get an entire NFL team plastered. [NY Post]
Send stories, photos, and anything else you might have to tips@deadspin.com.