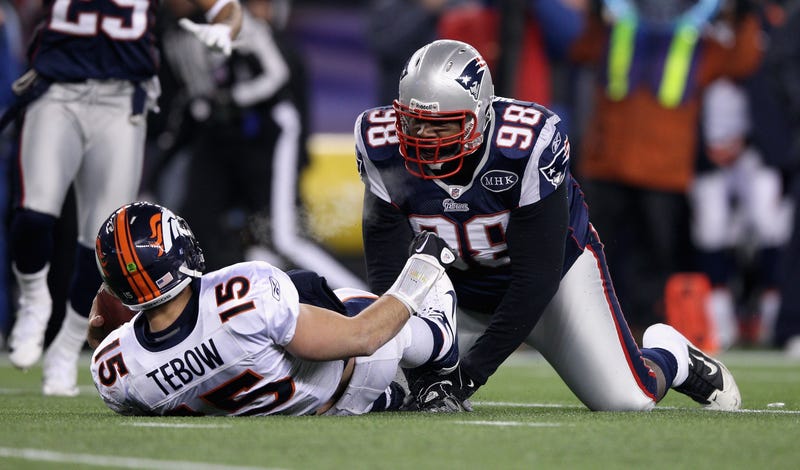 On a play early in the second half, Tebow was hit just after releasing a pass. He suffered torn rib cartilage, a bruised lung, and fluid buildup in his chest. It must have been excruciating—he had an MRI Monday after he couldn't sleep through the pain—but he showed no outward signs of being injured, and completed the game against New England. There are two ways to look at this, and to deal with it going forward:
1. Tim Tebow's a tough dude. He's built like a brick shithouse, but toughness can't be taught in minicamp. Any NFL player is going to deal with a litany of injuries over their career, and it's encouraging to see that Tebow was willing and able to play through his. It bodes well for the Broncos, who can be confident that their starting quarterback will play if he can.
2. Tim Tebow will always be injured. It's the inevitable outcome for a quarterback who looks like a fullback and runs like one. His Mic'd Up segment revealed a constant crunch of pads as Tebow refused to slide, and a startling number of plays that could easily have ended with busted ribs. (To say nothing of his extended throwing motion, which makes him a target for longer than any other quarterback in the NFL.)
Brian Billick thinks Tebow should slim down, even while acknowledging that his bulk is the only thing "keeping him alive." But that's not who Tebow is. He'll never be the pocket passer that John Elway wants, so he'll be the oft-injured scrambling QB. Mike Vick without the arm. He'll be knocked out of games for a few snaps, miss entire games, maybe even have a season or two shortened by a concussion (it wouldn't be his first). All leaving the Denver offense in the hands of a backup, and one who the spread option is definitely not designed for. Or, the alternative: playing at less than 100 percent, and leading to Broncos to just 3 points in the second half of a playoff game.
Tebow being banged up and ineffective at Foxborough was a nice little narrative coda at the end of a season that seemed scripted. Let's see how endearing it seems when it won't stop happening.