TMZ has curiously been anointed the white-hatted hero for turning over the email address of the individual accused of tearing apart a peephole and filming Erin Andrews undressed multiple times. So why did they screw up the story so badly?
According to the affidavit, Michael David Barrett contacted Dennis Broad of TMZ on January 28th and tried to broker a deal for his grainy EA peephole footage. TMZ turned him down because they wanted no parts of it, according to Harvey Levin. I spoke to Levin on July 16th, after the links to the footage started to show up in our inbox to see if he'd heard anything about it. At the time, Levin said he "knew nothing about it" and "wouldn't run it anyway because it's illegal." Fair enough. But once the story broke and it couldn't be ignored any longer, TMZ went full-throttle on Erin Andrews after "reviewing" the tape that had been sent to them in January, apparently.
So they have a possible lead on the man's identity, Levin's talking to EA's lawyer, Marshall Grossman, yet TMZ continued to float theories that this was possibly an ESPN employee even though they have a key bit of evidence and access to the FBI and EA's legal team that would give them full control of the story. But instead of following up on all of these latest revelations as they happen, they opted to go with her old yearbook photo.
I spoke to Thom Mrozek of the US Attorney's office and he told me that there were some questions about how TMZ handled it and some of their inconsistent reporting given they knew so much about it. Mrozek didn't want to speak on behalf of TMZ or speculate as to why it happened. And, surprisingly, Levin has not responded yet to my email request to answer this question either. I'm very popular.
G/O Media may get a commission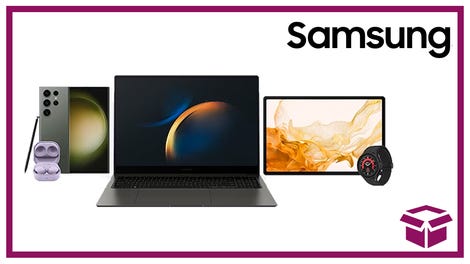 24 hour deals
Discover Samsung - Daily Deal
I emailed Grossman and asked him when TMZ provided the information to them and what the status of any civil suits were at this point: "We initiated contact with all potential sources of information as we believe the government did as well. Since this is a case in progress I am unable to provide further detail. As far as civil action is concerned those decisions will be made when we are satisfied that all investigations have matured."
But is TMZ part of the investigation?
"Not as I would describe it. We have looked at every web site and media outlet for information from the get go. That includes yours."
This man is terrifyingly curt. At least he wrote back.
****
Thanks for the continued support of Deadspin and the Deadspin Anarchy Team. KOGOD's in tomorrow to do his best Peggy Noonan impersonation as well. Now, have fun at the wedding.