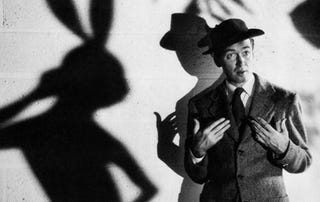 What to watch while seeing the downside of Spain's title...
U.S. Olympic Trials. 7 p.m. [NBC] I'd rather watch Trial of the Superfriends.
Movie: The Lost World: Jurassic Park. 7 p.m. [FOX] Coddamn. When there's nothing on TV, there's really nothing on TV.
MLB: Chicago Cubs at Chicago White Sox. 8 p.m. [ESPN] Kerry Wood is really the fake Stone Cold.
Movie: Harvey. 8 p.m. [TCM] Pooka? What's a pooka?
TV: Venture Bros. 11:30 p.m. [Cartoon Network]
TV: Fat Guy Stuck in Internet. 12:15 a.m. [Cartoon Network] Ralph Friedgen searches for the X button on the top of his browser.