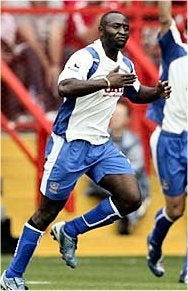 • Charlton 1-0 Portsmouth. You know who's the best team in the Premiership? Portsmouth. Alright, probably not, but... they're at the top of the table right now. They got there by beating Charlton 1-0 today courtesty of a 73rd minute goal from the awesomely-named Lomana Tresor LuaLua. They add this to their wins over Wigan, Middlesbrough, and Blackburn, and a draw with Man City. Not exactly a murderer's row, but hey, points are points.
• Sheffield United 1-2 Reading. It took Sheffield exactly 16 seconds to give up a goal to Reading today. The Royals are also acquitting themselves quite well in this Premiership season, beating Sheffield today and sitting at 5th in the standings, tied with Chelsea. Sheffield meanwhile, remains firmly on track for relegation.
• The bigger day of the Premiership weekend is actually tomorrow, when the slate includes Chelsea vs. Liverpool and Manchester United vs. Arsenal. Actually, that second matchup doesn't look so special, considering that Thierry Henry probably won't play, and Arsenal really hasn't been that good even with him in the line-up. Tomorrow's also an NFL Sunday, and these games aren't quite as appealing when the NFL is on. Sorry.
• It's not Premiership-related, but England international Owen Hargreaves evidently has a broken fibula. That's his coach's guess anyway. He left the Bayern Munich game in the first half after colliding with another player. This could mean that a phone call is in order to this fellow...
Elsewhere...
Everton 2-2 Wigan
Bolton 0-0 Middlesbrough
Watford 0-0 Aston Villa