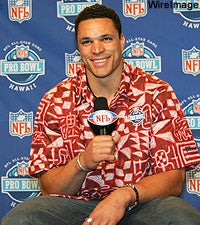 The Pro Bowl will be kicking off any minute now, and I can't wait for this dazzling affair. Conference supremacy and pride are on the line, and that's fantstic. But really, today's about sportsmanship and togetherness, because no matter what happens at the game, everyone's getting a free lei. And I think that's what really matters.
As for the real intrigue tonight ... well, Chad Johnson said he was going to strip if he scored a touchdown. So you could check that out, if you've always harbored a desire to see Chad's smooth chocolate thighs.
Personally, I've always dreamed of seeing Jim Nantz in a Hawaiian shirt, so there's that. Shawne Merriman and Jason Taylor might just beat the hell out of each other. Also, Bill Belichick is coaching the AFC side, so we'll get to see what he looks like in something other than a gray sweatshirt with the sleeves hacked off. If he cuts the sleeves of a Hawaiian shirt, he will be my hero.
Chad Johnson Promises Full Frontal Nudity at the Pro Bowl [NFL FanHouse]