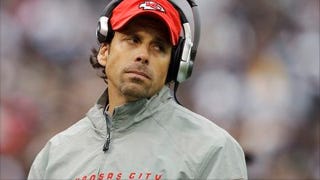 Week five. I hope you are all as despondent as I am. If not, you will be. You. Will be. As always, please join us down below for fun and games.
Kansas City at Indianapolis (CBS): Todd Haley takes the circus on the road to Indianapolis this week as Curtis Painter gets his second start. Since this seems like a boring game, lets pretend Peyton Manning is coming back today and envision Todd Haley's reaction. There. That was fun.
Tennessee at Pittsburgh (CBS): The Steelers have yet to start the same offensive line combination in consecutive games this season. A recipe for success, no doubt. Uber Mensch, Ben Roethlisberger, will start the game despite being in a boot earlier this week. You can almost hear the Dierdorfgasms.
Seattle at NY Giants (FOX): Here's shocking news for Giants fans: Brandon Jacobs may not be able to go due to an injury. If the Daily News is to be believed, it might not really matter since Seattle is only allowing 3.2 yards per carry. Seems highly dubious, though. I mean, Seattle? A pro-football team?
Cincinnati at Jacksonville (CBS): Blaine Gabbert leads the league in being a terrible quarterback and having a villainous first name. Andy Dalton isn't much better and will at some point lose the always surprisingly competent Cedric Benson. I'm just amazed this game isn't getting blacked out.
New Orleans at Carolina (FOX): Darren Sproles leads the NFL in all-purpose yards and has scored a touchdown in almost every way possible. Maybe he'll throw for one today. This is not a slight against Jake Delhomme and previous Carolina iterations, but Panthers games are at least no longer nap-inducing. Ok, so maybe its a slight slight.
Oakland at Houston (CBS): Al Davis passed away yesterday. It's unfortunate that his name became a punchline at the end of his life because from what I've read about the man (I'm too young to have first hand knowledge of his days as a sane person), he was a major player in creating the NFL as we now know it. Rest in peace, you crazy old guy.
Philadelphia at Buffalo (FOX): This is a game director's wet dream. Two teams with notable food products! Expect plenty of shots of wings being prepared. Brian Billick may even express his love for wings. The real question is, does Fox have the stones to also show cheese steaks being prepared? There's just no way of knowing.
Arizona at Minnesota (FOX): It's the battle of ex-Eagles quarterbacks. Donovan McNabb's time may be running out, but luckily for him, the Cardinals are not good against the pass. He will not have subpar target Bernard Berrian presumably because his chewed up and mangled foot is limiting his mobility.
What You're Watching
Via The 506. CBS:
Fox (Late Game Included):
Please Rise for The (Taserless) National Anthem