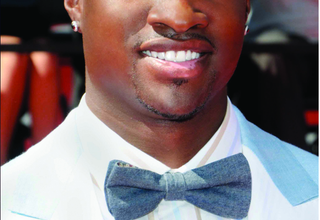 So this is something. Our friends over at KSK have irked an NFL player with one of their patented satirical posts, but unlike most of their targets, this NFL player decided to fight back with hissing lawyers and dildo-burping PR ladies in a misguided effort to protect his imaginary "brand."
How it started. Berrian, NFL wideout for the Minnesota Vikings, got all testy on Twitter with a state representative John Kriesel from Minnesota, by telling him to "sit down and shut up!" after Kriesel, a Vikings fan, made a crack about his performance. Kind of harmless, but Berrian wasn't aware that Kriesel lost both his legs during the Iraq war and, well, is always sitting down and probably doesn't deserve Berrian's hypersensitive Twitter tantrum. But! Apologies were given and accepted, so everyone seemingly moved on.
KSK's Matt Ufford, himself a vet, decided to skewer Berrian about the incident in the KSK way, featuring obviously fake Twitter wars between Berrian and the Dali Lama to an imaginary yapping puppy dog named Marshmallow. To fire back, Berrian summoned the dildo-burper who then summoned the lawyer to fire off a cease-and-desist letter to Uproxx media warning them that if they did not remove the offensive post immediately and stop all other attacks against their client, Bernard Fucking Berrian, legal bills would get costly. Game, set, post removed.
But in an effort of half-assed, misguided solidarity, I am hereby requesting that football fans across America boycott Bernard Berrian in an effort to stop him and his tyrannical idiocy from neutering the internet of the freedoms we hold so near and dear any further. So to the 2% of the people in Yahoo! Fantasy Football leagues who accidentally still own Berrian, drop him. He's only preventing you from picking up more worthwhile emergency bye-week wideouts like Kole Heckendorf or Devard Darling. And to the half dozen people in Chicago (or Minnesota, I guess) who still own Berrian jerseys just to wear for house-painting chores or as a duster for antique furniture, throw it away. Or burn it. Or better yet, let a puppy named Marshmallow crap all over it. Either way, send us a picture of a desecrated Berrian item and we'll give you a beautiful prize package of crap from our desk.
****
Thanks for your continued support of Deadspin. Hickey in a pinch.