Tony Siragusa may be a pain on Fox's NFL telecasts, during which producers have inexplicably tasked him with standing on the sidelines and bellowing nonsense. But the man can tell a good story. He does a lot of that in his new book, Goose: The Outrageous Life and Times of a Football Guy, which he co-wrote with Don Yaeger. Goose is much funnier and less self-serious than the average player biography.
To wit, here's Goose on his Super Bowl experience:
The Super Bowl is the biggest game you will ever be in. I've met guys who made the Hall of Fame or played in the Pro Bowl umpteen times. If they can't walk around with a Super Bowl ring on, it sucks. If you have that ring that says WORLD CHAMPIONS, earned playing the most violent, testosterone-packed game in the world, it's an amazing feeling. When you win that game, your dick gets bigger. If you have a one-inch dick and you win that game, now it's two inches. You can be the ugliest motherfucker in the history of the world, but if you win that game, you'll marry one of the hottest women ever. When I even just let friends of mine try on my super bowl ring, they get tingles down below.

Just look at Tom Brady. His cock is probably two feet long and he married a supermodel, that's a fact. Well, the second part is a fact. Hell, his wife is such a big-time supermodel, she makes more money than he does. Need I say more?
Goose on his visit to Penn State:
It didn't take long to notice that they had this big pasture of cows right next to the stadium and the whole place smelled like cow shit. All I could smell the whole time was cow shit; it was crazy. I was just thinking, Oh my God, I can't smell anything but manure. It got overwhelming. Of course, Joe Paterno was a good guy when we met him, but the whole place was a little over the top for me. Kind of like a cult. Little did I know what we would all find out years later.
G/O Media may get a commission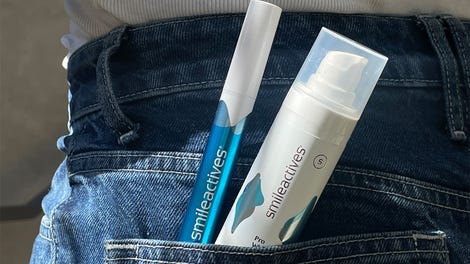 58% off
Whitening Powerhouse Pen & Gel Duo
Goose on one awful Indianapolis Colts staff Christmas party:
Irsay was like 70 years old at this time. He's talking kind of loud as he walks up to me, like he's already pretty lit up. He starts saying, "I heard about you, I heard about you. I heard you can drink. Let me tell you, I'm the one who can drink." His mumbling some other stuff, and I'm not saying much. I'm just trying to keep things calm. Then he looks at the bartender and says, "Get us two shots of Jack Daniel's." I say, "OK, but just one shot, Bob. I drove my motorcycle and everything." He wants none of that. He just says again, "I heard you can drink. Well, let me tell you, I can drink." So he orders another shot and then another.

Now he's getting louder and louder with every shot and people are starting to gather around. There are media people around, and I'm trying to get the old man to stop. It's not that I can't drink with him, but he's getting sloppy, and I really do have to take my motorcycle back to my place. The last thing I need is a DUI after a Christmas party. But this is the owner, and I can't insult the guy at his own party at his house. As we get past shot number three or four, Irsay is just mumbling and Teddy [Marchibroda] comes over with his wife. Teddy is looking kind of nervous, and I'm looking at him like, What the hell do I do? Teddy's wife stands next to Irsay, and Irsay puts his arm in hers, in just a friendly way. Then Irsay starts to ramble about Teddy: about what a great coach he is, what a great man he is, and what a great wife he has, until all of a sudden he stops talking. At that moment, Irsay literally falls backward and passes out on the floor. Teddy's wife falls to the ground. I'm stunned, and Teddy is scrambling. He doesn't know whether to pick up his wife or Irsay first. It's crazy, everybody is scrambling, and now everybody is staring at what's going on.

General manager Bob Terpening, who's been with Irsay since the Colts were in Baltimore, hustles over and looks at me. He says, "Help me pick him up?" Now, this is getting a little embarrassing, but OK, I'll help the owner up. Terpening tells me to help get Irsay in the house. I'm like, "What the fuck are you talking about?" He can't handle Irsay himself, so he tells me, "Just do it." So now I'm helping carry Irsay out of the room. As I'm walking, Terpening and I have Irsay arm-in-arm, just dragging his feet along. The other players see me and start doing the smooching sound and snickering at me that I'm a kiss-ass. Yeah, this is just great—my freaking drunk-ass owner is making me look like a jerk bag. Terpening and I get Irsay in the house, and I'm ready to go. Irsay had all these dogs too, and they all run up to us as we get in the house. Irsay is mumbling, "Look at my babies, they're so pretty." This shit is nuts. Terpening yells at me, "Help me get him to his bedroom." I'm like, "No way, this is as far as this goes. Next thing I know you're going to have me getting him out of his clothes or whatever. Fuck that. This is where the rescue mission ends."
And here's Goose on Rex Ryan:
So we open with Pittsburgh at old Three Rivers Stadium, which is just a shithole with that old, hard Astroturf surface. It's a 1 p.m. game, so it's still pretty hot, but Rex has been telling me all week, "Look, I just need you for like 16 plays." I'm figuring I'll play on first down the whole game, we'll get up on them, and I can rest in the second half. Well, the first quarter ends, and I'm already at like 14 or 15 plays. I look over at Rex and give him that look like, When am I coming out? He screams back at me, "I meant 16 plays a quarter."

That asshole. You have to love Rex. What a great coach. To this day, I still think that the Ravens should have hired him to be their next head coach. I even told that to Steve Bisciotti, the Baltimore owner, when they hired John Harbaugh. Nothing against Harbaugh, but here was a team that won on defense and had a defensive guy who was great with the players. What else did you need? Bisciotti said, "Rex is a little too close to the guys." Too close? That's the point: you want a coach the players believe in, someone they trust and want to go to war for.
If you want to read more Goose, you can buy the book on Amazon.
Excerpted from the book GOOSE by Tony Siragusa with Don Yaeger. Copyright © 2012 by Tony Siragusa with Don Yaeger. Published by Crown Archetype, a division of Random House, Inc.