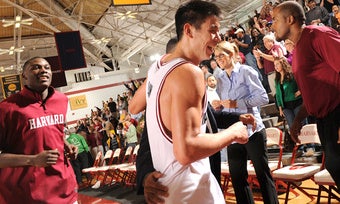 Two college basketball teams will battle for conference supremacy tonight in a game that involves a nationally-renowned point guard, allegations of casual racism, a murky college recruiting scandal, and a biting journalist Twitter feud. That's right: Harvard is playing Cornell.
Every now and again in the world of college athletics an Ivy League team will outperform the low expectations set for them by the sports-loving public (which typically range from a hair-tousle and an "oh, you" to an atomic wedgie and a swiped sandwich) and become pretty decent. This year two squads of nerds could get invited to the party.
"It certainly feels strange to lead these picks with a couple of teams whose GPAs are more important than their scoring averages," quipped Sports Illustrated's Seth Davis in accordance with the law that any reference to an Ivy League athletics team must include a mention of GPA, calculators, or both.
With Cornell a two-time conference champion, Tommy Amaker coaching Harvard, and both teams earning spots on the NCAA's midseason bracket, it's arguably an important game from a purely basketball perspective. But underlying a good deal of the mainstream media notice — in addition to Davis's picks, ESPN's Andy Katz mentioned Harvard-Cornell as one of the three games he was most looking forward to this weekend — is the story and play of Harvard's senior point guard Jeremy Lin.

(Scroll to Moment #6)
Lin has been slowly amassing attention. Earlier this season he was named a finalist for the Wooden and Cousy awards, and some believe he has a chance to be the first Asian-American drafted by the NBA. In late December, Time Magazine wrote about Lin and the Crimson (requisite nerd-line: "...the Harvard basketball players will be locked in the library instead of pulling off a Cinderella upset") in an article that went on to draw attention to some of the highly unoriginal mal mots directed at him by opposing fans:
Some people still can't look past his ethnicity. Everywhere he plays, Lin is the target of cruel taunts. "It's everything you can imagine," he says. "Racial slurs, racial jokes, all having to do with being Asian." Even at the Ivy League gyms? "I've heard it at most of the Ivies if not all of them," he says. ... according to Harvard teammate Oliver McNally, another Ivy League player called him a C word that rhymes with ink during a game last season. On Dec. 23, during Harvard's 86-70 loss to Georgetown in Washington, McNally says, one spectator yelled "Sweet-and-sour pork!" from the stands.
In their defense, these geniuses really must have been bottling up the clever insults for some time: a piece in this week's Sports Illustrated explains that there are only 18 Asian-American men's basketball players in Division I ("By contrast," it notes, "there are 23 students at Harvard with the last name Lin.")
But most fans love Lin. First-hand accounts from last night's Harvard victory at Columbia spoke of an uncharacteristically packed gymnasium and described crowds of autograph seekers pursuing the point guard, who finished the game with 14 points in just 24 minutes. No doubt some of them were there out of curiosity: one correspondent Twittered that the guy on his left had come to the game after the SI story piqued his attention.
Written by Pablo Torre, the Sports Illustrated piece is slick and filled with amusing details: only at Harvard, for example, would you have Steve Ballmer as a booster (and former statboy!) or recruit "a 6'7" poetry lover with a 42-inch vertical." The story remarks that Harvard has "revis[ed] the media guide to feature alums from John Adams to Barack Obama" (what, no BJ Novak?) and namechecks the monocle.
Torre focuses largely on Lin but also on Crimson coach Tommy Amaker, the former Michigan coach whom I actually remember best from his stint at Seton Hall. (I grew up on a steady diet of New Jersey newspapers, cut me some slack.)
Citing a deeply interesting 2008 New York Times investigation that suggested Amaker and an assistant may have violated NCAA recruiting rules through "aggressive tactics" as well as a lowering of admission standards, Torre noted the Ivy League ultimately found no violations.
But hell hath no fury like a investigative reporter ignored, and the Times' Pete Thamel, author of the 2008 piece, took to Twitter with disdain:
Wounded but diplomatic, Torre struck back, using phrases like "debate nuances" and "taking your Tweet's implication at face value." Because ah, here's the rub: Torre went to Harvard, as Thamel went on to point out. (His chosen phrase, for the record: "Warm fuzzy hug.")
Pieces like Torre's will often summarize to maintain narrative scope; if a reader wants more, the citation's right there. Still, Thamel's not wrong. I would have liked to have seen his eyebrow-raising follow up report mentioned in more depth, as it's germane to Amaker and the transition period that Torre homes in on. But Thamel kind of comes off like a bit of an ass. If he really wanted to hit Torre where it hurts he should have just asked about this awkward sentence!
An institution whose academic prestige is in inverse proportion to its hoops futility, the Crimson has never won even a conference title.
The copy editor must have gone to a state school.
Anyway, I'm sorry to break it to you after you've made it this far (sorry!) but like so many revolutions, the Harvard-Cornell game will not be televised. Seth Davis (who himself jumped into the Twitterfuffle with a mailed-in Michael Vick joke, let the record show) notes that the game can be streamed live on Cornell's website.
He claims he'll be watching. Put down those TI-83's, geeks, and do just the same.
"Harvard School of Basketball" [Sports Illustrated]
"Jeremy Lin: Asian Basketball Star Faces Racial Slurs" [Time]
"Amaker's Move Creates a Clash of Harvard Ideals" [New York TImes]
Image via Go Crimson.