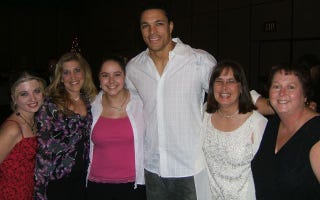 Kansas City Chiefs tight end Tony Gonzalez is known for many things in his storied career: Pro Bowl tight end, United Way spokesperson, and football salami enthusiast.
Now, you can add all-world Good Samaritan to that impressive resume, after he saved a Huntington Beach restaurant patron Ken Hunter from choking to death. The AP runs down all the the hot Heimlich action:
"I tried to take a drink of water, but I couldn't swallow," Hunter told The AP. "Then I couldn't breathe. That's a terrible feeling. I couldn't breathe. Then I guess I started to panic."

Gonzalez, sitting with his back to Hunter's table, looked around when he heard Hunter's companion yelling.

"She was screaming, `He can't breathe, he can't breathe,"' Gonzalez said by phone from California, where he lives in the offseason. "The whole restaurant was quiet. Nobody was doing anything."

Then I saw he was turning blue. Everybody in the restaurant was just kind of sitting there wide-eyed."

The 6-foot-5 Gonzalez, about a foot taller than Hunter, jumped out of his chair and came up behind the stricken man and began to perform the Heimlich maneuver.

"After just a few seconds, the piece of meat popped out."
After he saved Hunter's life, Gonzalez finished his dinner and continued the rest of his daily routine, which includes fixing flat tires for old ladies, piano lessons, ice sculpting, reading French poetry, and charming the pants off of Huntington Beach residents with his uncanny ability to seemingly know everything about them.
Tony Gonzalez: Future Hall Of Famer And Life Saver [Arrowhead Pride]
NFL Star Saves Man's Life [Yahoo Sports]