Every morning, the fine folks at Sports Radio Interviews sift through the a.m. drive-time chatter to bring you the best interviews with coaches, players, and personalities across the sports landscape. Today: John Mozeliak has kept a secret since the summer.
John Mozeliak joined ESPN 101 in St. Louis with Bernie Miklasz to discuss keeping the secret of Tony La Russa's retirement announcement since August, having a head start in looking at replacement managers since August, how many managers he would like to interview for the position, how tough it will be to replace a legend in Tony La Russa, Dave Duncan's future with the Cardinals and what qualities made Tony La Russa such a terrific manager.
You guys kept a good secret for a long time with this Tony La Russa retirement announcement. How hard was that? Was it even more emotional knowing that this was it for Tony La Russa as the Cardinals were on the brink of winning or losing a World Series title?
"I haven't really had a whole of time to reflect on everything that has happened. To me it's sort of been like moving on a fast moving train and it's hard to focus on some of the times of what is going on and for me to think about what we had accomplished, but also knowing the whole time that Tony was going to walk away. I tried not to focus on it too much because I always knew today was going to come at some point and to have it happen off of such a meaningful year. It was tough yesterday because I sat in that parade and knowing that in 30 minutes or an hour we are going to sit there and tell the club that he was stepping down was tough and I could only imagine what he was thinking."
Tony La Russa basically said he had approached you and Bill DeWitt Jr. in August about retiring at the end of the season. Did that at least give you some time mentally to prepare and start putting a list together of potential managers to replace him for next year?
"Yeah. It's something that the whole reason he met me in August was to give me a head start on this. At the time it was conceivable that our season was going to end in late September, but clearly it didn't and it ended being a magical ride, but we were definitely able to get a head start to some degree, but obviously we were never in a position where we could make contact with anybody or talk to anybody because you stated as we started the show this was a well kept secret and we never really let many people know about this. Candidly it was probably less than 5 or 6 people that really knew what was going to happen up until yesterday."
How many people will you talk to about the manager position? Will it be a short list?
"I'm hopeful that…right now the list is very long. What I would like to do internally is sort of cut it down and try to make it a shorter list and a much more manageable interviewing process. I don't want it to be too large where we sort of lose focus in what we are trying to accomplish, so two things needs to happen. One: identify the profile of the type of managers we are looking for and there may be a couple that we identify and in that sense go out and try to see if we can find those type of applicants to fit that. Then we'll do the internal interview process and ideally if you want to have something done before G.M. meetings in two weeks that would be great, but if it is something that has to go until Thanksgiving that is understandable as well."
G/O Media may get a commission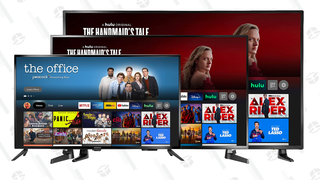 Up to 44% off
Prime Early Access - Insignia Fire TVs
Do you have a type of profile set in mind for this manager? It's always tough to replace the legend. Does that ever enter your thinking?
"It does, but I think this late in the game it is going to be tough to go out and necessarily get someone with real managerial experience, so what I think what we want to do is create a profile that is both. One that has someone that has success or history in the game and there may be another profile that is more of an up-and-comer and one that can create their own identity."
How will this impact Dave Duncan's future meaning he would return? What is your take on that?
"Well I don't know the answer to what we will see out of the coaching staff given the timing of everything. I was never given the ability to sit down and talk to each coach prior to season's end and what I will work on in the next few days is try to touch base with everybody and sort of ultimately give the manger some autonomy in terms of how he wants to see that staff shaped."
What made Tony La Russa such a terrific manager?
"It all starts with his leadership and his ability to get people to pull in one direction. I also think the way he approached it. He never sort of had one foot in the water and one foot out. He was one of those types of people that was all in. He never left anything for chance and he was always prepared. When you look at the qualities of people who are successful that's usually what you have to do and he really embodied all of that. That's what made him so special and that is why he was a winning manager. When you look at turning the page those are definitely some of the qualities you want to see in the next person."
This post, written by Steven Cuce, appears courtesy of Sports Radio Interviews. For the complete highlights of the interview, as well as audio, click here.
More from Sports Radio Interviews
• Derek Holland says this year's loss hurts more than last year's.
• Lane Kiffin blames his team and the refs, in that order.
• Anquan Boldin says the closest thing to Ravens-Steelers is Florida-Florida State.