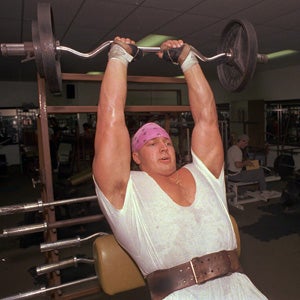 Former beefy lineman Tony Mandarich has recently admitted to the world that, yes, the incredibleness of his bulk was actually acquired not just by G'N'R and caffeine, but steroids.
In the latest issue of SI, Rick Telander revisits the man he lionized and made extremely wealthy with his 1989 SI cover story. We find Mandarich humbled by time (and his not-so-spectacular career) and apologizing to Telander and SI for convincing the world that his bulbous muscles were made entirely in the gym. Another interesting part of the story is how Mandarich beat the NCAA's top-notch PED testing with homemade devices bought from pet stores. With Leather via Larry Brown Sports via EDSBS:
In the pet area I see this rubber doggy squeaker toy. I get that, then I go to another area and get a small hose, and in the medical area I get some flesh-colored tape. I'm like the Unabomber getting supplies. Back home I rip the squeakers out of the toy, tape the hose into one end and experiment by filling the thing with water. At the Rose Bowl I taped the toy to my back, ran the hose between my butt cheeks, taped the end to my penis, and covered the hose tip with bubble gum. I had gotten some clean urine from somebody else. The tester stood behind me, couldn't see anything, and when I removed the gum everything worked fine...At the Gator Bowl the following year Mandarich customized a squeezable glue bottle to replace the doggy toy. "A quarter twist of the cap, no leak, no moving parts–it was almost too easy.
Well, look at you, Mr. Wizard. Or should that be Mr. Whizzard? Give the man points for creativity and possibly an honorary doctorate from MIT.
*****
TOMORROW: Dash. SUNDAY: Idiot Barking Dog.
Thank you for your continued support of Deadspin. It's gonna be nice tomorrow. Rejoice: