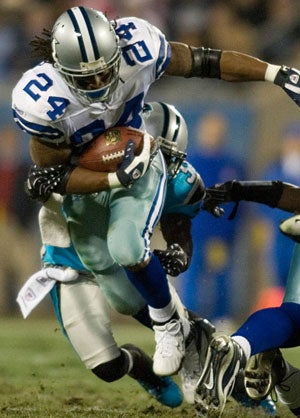 I'm sure everyone involved in the Dallas Cowboys organization would love to get home to their families by Sol Invictus, but they all have some unfinished business even after beating the Carolina Panthers 20-13 last night.
The Cowboys trainers are furiously trying to iron out that Matt Moore-shaped groove in the front of DeMarcus Ware's jersey. Terrell Owens has to undergo an MRI on his ankle to see just how wobbly it is. Jerry Jones has to call up Panthers owner Jerry Richardson and finish slapping him around a bit with his Super Bowl ring.
But in terms of actual football responsibilities, they got all that out of the way. Oddly enough, not once did Tony Romo drop back to pass, turn his head right, see all those paper copies of his sexy, sexy girlfriend, then shriek in terror and fumble the ball. Punter Mat McBriar, however, was pretty bored during the game, so his wandering eyes made it difficult to stand up and take the field on 4th downs. (This is exactly why Dallas was 3-for-3 on 4th down conversions.)
Removing doubt from the five perpetual optimists in Charlotte, this loss mathematically takes them out of the playoffs, ergo only imaginary numbers could save them now. Steve Smith has endured more than one horrible season with the Panthers, but every time they barely lose, Smith typically has something to do with avoiding the beatdown. You have to wonder how awesome Smith would be were he thrown to his entire career by quarterbacks with fully developed motor skills. Over 75 percent of the Panthers passing game went through Little No. 89. He must really like wearing that shade of baby blue, because he sort of deserves better.
Dallas Cowboys QB Romo shakes off adversity [Dallas Morning News]