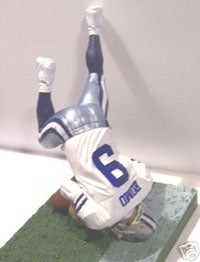 So it's bad enough that Cowboys quarterback Tony Romo still plans on being at the Pro Bowl this weekend, after that rather unfortunate misstep that ended Bill Parcells' coaching career and brought shame upon the great Eastern Illinois University. But guess what? They're actually gonna ask him to hold.
There are some who think the only thing Romo is qualified to hold is a seminar on how not to hold. But, to his credit, Romo is eager to take the field and try again. "It's always good to get that taste out of your mouth," he said. "You've got to move on. Eventually you've got to get on and get ready for the next season, and that's what I'm doing."
You thought there was no reason to watch the Pro Bowl, folks, but now ... OK, now, there's still no reason to watch the Pro Bowl.
Romo Out To Get A Grip [Philadelphia Daily News]