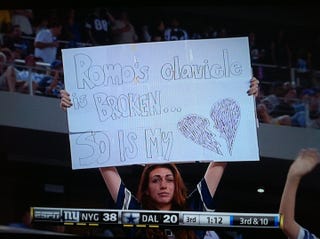 Romo broke his left collarbone in the second quarter against the Giants tonight after taking a hit from Michael Boley. The Cowboys are 1-4 and are now down 38-20 in the fourth quarter. Okay, Jon Kitna. It's all yours.
Kitna hasn't taken a snap since 2008, and recovery time for Romo's type of injury is 8-10 weeks.
It is still unclear how to mend a broken heart. But perhaps with this, we can begin to mend the fact that there was no open thread up for MNF tonight.
Cowboys QB Romo out with broken left collarbone [AP]
[Thanks to Tom for the photo]