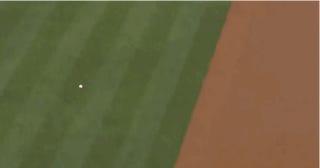 The first Mike Trout-Clayton Kershaw showdown finally went down tonight and it ended up being a pretty great baseball play all around. It was also subject to a replay review before the ultimate outcome was certain, which was kind of anticlimactic.
Trout smoked Kershaw's 93 mph four-seamer to third and Juan Uribe not only made a great diving play, he popped right up and made a great throw, too. As this was happening, Trout was flying down the first base line to beat the throw. He was ruled safe, but some replay angles showed the ball might have beat him by the slimmest of margins. The Dodgers challenged, but the call on the field was upheld. It took an extra two minutes or so to figure out, but Round 1 went to Trout.
Juan Uribe is not on board.