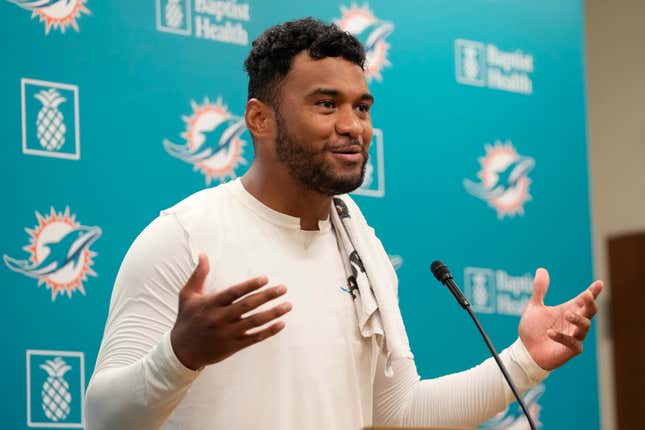 The movie rage hitting the theaters this summer extends beyond Barbie, and Oppenheimer. There's a hidden treasure, one could even call it forgotten, and the independent, umm, film has brought in nearly $175 million. The Sound of Freedom — an action thriller about a child trafficking ring starring Jim Caviezel — has sparked some controversy for bringing QAnon conspiracies to life, its own ticket sales conspiracy, and the movie's conspicuous 99 audience score on Rotten Tomatoes.
What team would trade a first round pick for Jonathan Taylor? | Agree to Disagree
Among the movie's adoring fans is Tua Tagovailoa.
Ugh.
You couldn't pay me to go to a screening of Passion of the Caviezel. Rolling Stone called it a "vigilante fever dream." Advertised as a true story, Salon said the plot is "at best embellished and, whether intentionally or by coincidence, profiting off conspiracy-fueled mass hysteria."
However, Mark Jackson — no, not that one —a critic at the Epoch Times, wrote: "God's children are not for sale. Spread the word."
"Wow, wow, wow," said Sen. Ted Cruz about Sound of Freedom.
It has a 67 critic score on Rotten Tomatoes if that means anything, and if you have some time to kill, peruse the review blurbs for a classic internet time suck.
Don't troll the messenger
What Tagovailoa's taste in movies says about his politics, I have no idea. I really just wanted an excuse to write about The Sound It Makes When It Takes a Man's Life. Did you know The Sound of Freedom was crowdfunded, and the producing studio, Angel Studios, is paying back contributors $1.20 for every dollar they donated? Talk about a return on investment.
This movie has made more money than the new Indiana Jones and Mission Impossible movies, according to Newsweek, and it doesn't matter how many ticket buyers actually showed up, this is a success. The box office numbers have been attributed to the "forgotten viewers," and definitely not spiking the box office data.
"The forgotten viewer refers to a moviegoer who is traditionally conservative, often Christian, who has felt over the past 20 years that Hollywood has forgotten about them as an audience member," director and producer Stefano Da Frè told Newsweek.
Ahh, yes, the "forgotten viewer," much like the "forgotten voter" and the "mistaken insurgence." However, we know one person who endorsed it, and I swore I'd get through this piece without a concussion joke, so I'm just going to end it.