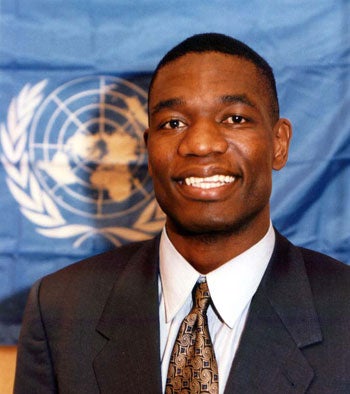 WHO WANTS TO SEX BUY $10 MILLION WORTH OF CONFLICT MINERALS FROM MUTOMBO?
Kase Lawal, a chairman of a Houston energy company, did. He brokered a deal with Mutombo to purchase more than 1,000 pounds of gold mined from his native Democratic Republic of the Congo, with 30 percent of the profits to go to Mutombo. When Lawal sent his plane to Kenya to pick up the gold, it was seized at gunpoint by Congolese officials. The money was gone, the gold was gone, and Lawal was out more than $30 million.
All of this would be bad enough without the depressing realities of mining in Africa. The Congolese gold trade is controlled by the militias, often harvested by forced labor and used to fund weapons for continuing conflict. Basically, everything Leo DiCaprio warned you about. Mutombo knows all about it: in November 2010, he met with the US State Department to try to bring more attention to the DRC's conflict mineral trade. Two weeks after that, he was looking for a secretive buyer for the gold that he said belonged to him and "his people."
Mutombo's role in $10 million 
gold scam only now coming to light [Houston Chronicle]