Nevin Shapiro, even behind bars, takes pride in the fact that Miami players referred to him as "Little Luke." Not because he so horny, but because he so generous with his money when it came to taking care of the Hurricanes. Naturally, the first place we look to for reaction this morning is to Big Luke.
Luke (now Luther) Campbell is still as nasty as he wants to be, which is still pretty nasty for a 50-year-old man. He writes a regular column for the Miami New Times, and today used his pulpit to excoriate Shapiro:
Nevin Shapiro wishes he could wear my shorts for one day. The New Jersey-born Napoleon dubbed himself "Little Luke" in a so-called investigative report by Yahoo Sports claiming all sorts of corrupt shit Shapiro committed while he was a booster of the University of Miami athletics program.

The claims even include hooking up football players with prostitutes and buying them bottles at Club Mansion. That punk could never be me.
Campbell takes a digression to deny that he ever gave money to the school or the team, which rings hollow, but then he comes back to Shapiro:
Shapiro is nothing more than a jilted groupie who fucked over a lot people. He is an opportunistic schemer who now wants to play the role of jailhouse snitch. His word isn't worth squat especially if Yahoo paid him for the exclusive. Nevin's mad because he couldn't get former players to invest in his Ponzi scheme or come to his rescue when his criminal enterprise was exposed.

...

The NCAA shouldn't even waste any gas money on this guy. But the investigators have to do their due diligence. In the meantime, every UM fan should send a letter to Shapiro's prison warden and insist he remain in general population.
G/O Media may get a commission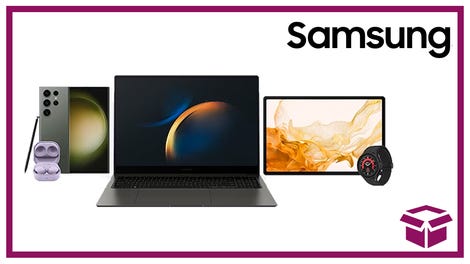 24 hour deals
Discover Samsung - Daily Deal
With the rest of the UM grads, presumably.
Also taken aback by Yahoo's allegations was the one person who probably would have liked to know something about malfeasance before he took the head coach job. Al Golden briefly spoke with reporters before today's practice (no players were made available) and expressed some irritation at being forced to spend his first camp running damage control.
"If [UM] knew that this was percolating, I believe they did have a responsibility to tell me," Golden said. "But look, I'm happy here. My wife's happy here. We got great kids on this team." That may be true, but after the inevitable sanctions, he may have fewer scholarships to give out, fewer great kids.
Nevin Shapiro Can Kiss My Ass [Miami New Times]
Al Golden: UM had "responsibility" to tell me about Shapiro situation if it knew [Palm Beach Post]