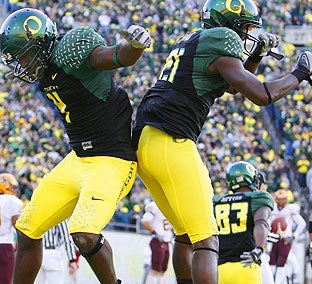 • Oregon 35, Arizona State 23 — ASU decided to go with the "dig selves a 21-3 hole, and see if we can get out of it" defense, but it backfired against them. Oregon will probably move from their previous ranking of 5th up to third because...

• Florida State 27, Boston College 17 — ...a football team in Boston actually lost a game. Matt Ryan's third interception of the game fell into the hands of Geno Hayes, killing the last-minute rally. The BC Eagles are now exiled from the laundry of list of why Boston sports rule this year, and are substituted with the New England Revolution of the MLS.
• LSU 41, Alabama 34 — Ah, this was a big win for the Tigers in Tuscaloosa. I'm sure that from here on out, people will finally stop questioning Les Miles as a legitimate coach. Yep. No doubt about it.
• Navy 46, Notre Dame 44 — Bread cost a nickel. Gas cost a quarter. Hippie bone marrow was free — you could just go up to them when they were asleep and siphon it through a tube. This was our world when Navy last beat Notre Dame.
Ram Vela. Remember that name. One day, you'll read about how he singlehandedly brought down a fortress of Middle Eastern terrorists or victoriously wrestled down a pod of super intelligent dolphins set out to destroy our way of life. Vela lept a ND defender and sacked quarterback Evan Sharpley in the same motion during an Irish fourth quarter drive.
• Arkansas 48, South Carolina 36 — "Hi, I'm Darren McFadden. You may remember me from such college football seasons as 2006 and ... well, just 2006." McFadden ran for 323 yards, passed for a touchdown, and I'm fairly certain he nursed a dying foal back into good health. Some may assert he still has a chance to win the Heisman, but Colt Brennan killed an octopus in the offseason. Still too close to call.
(Photo straight from the Arizona Republic)