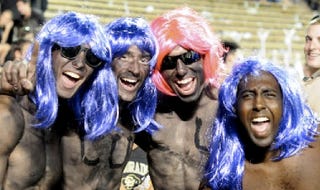 There's an interesting question being posed out in the Rockies regarding the University of Colorado fans' "Black Outs" concept. That question is this: "If white people paint their faces black at games, is that racist?"
[T]he Boulder Faculty Assembly's diversity committee plans to address this issue at a meeting next month, with a draft resolution calling on "the campus community to 'vigorously address' the unacceptable behavior."
How about we call the meeting off and just settle on the answer, "Yes. Blackface is generally a poor way to express one's passions."
CU Black Outs: If white people paint their faces black at games, is that racist? [Westword]
CU-Boulder faculty: Is black face paint school spirit or racist? [Daily Camera]
Blackout!! [CUBuffs.com]
Is Blackface Ever OK? [The Daily Show]