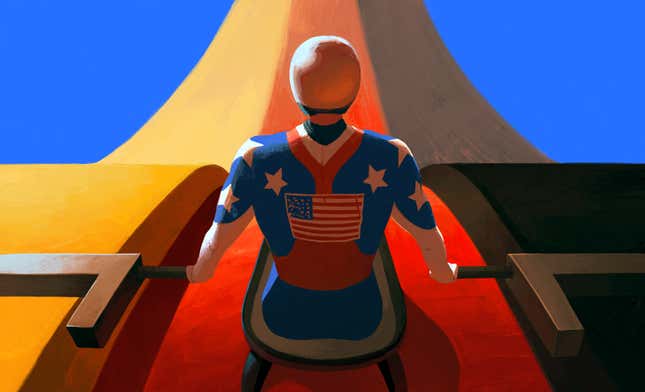 "You always have that in the back of your head, wanting to beat the Germans. And I did it." —Erin Hamlin, after winning the 2009 FIL World Championships and ending a 99-race winning streak by German women in top-level luge competitions.

Does Jimmy Butler have the best NBA Finals origin story? | Agree to Disagree
There are more ways to describe Germany's dominance in luge than there are trees in Bavaria, but it's easiest to convey through the implausible numbers it has produced over the decades. In the Olympic Games, Germany—including the former East Germany, West Germany and the United Team of Germany—has won 31 of the 43 gold medals awarded in singles, doubles and relay luge events, as well as another 45 combined silver and bronze medals. At the 1972 Olympics in Sapporo, Japan, 45 lugers competed on a course constructed less than a month before the Games began. A new track is the great equalizer in luge, a sport in which familiarity with a course's nuances is crucial to success. Germany swept the medal podium at those games, and its lugers also finished fourth, fifth, and sixth.
Then there's Germany's résumé in the World Cup, the annual circuit of luge races contested between Olympic Games. With all due respect to Bill Russell's Celtics and your more dynastic Yankees teams, Germany's results at the World Cup don't really have a parallel anywhere else in sports. A German woman has finished first overall in each of the past 20 seasons, and in only five of those seasons did German women not finish first, second and third. German doubles teams have won 52 of the last 54 two-run (non-sprint) races, and the last 36 overall. Since 2000, Germany has won every team competition at the World Championships.
How did Germany get this good? The answer is straightforward, but not quite simple. Germans begin sliding at an early age, and absorb the craft the way most children learn to ride bicycles. The country has the most luge tracks in the world, and also the most tracks among World Cup venues—nearly half of each year's races are held in Germany. It has the best sled technology and course knowledge, even on international tracks, because of an unmatched financial investment in the sport. Germany simply cares about luge more than anyone else, and it's not even close. The results speak for themselves, but even those don't quite tell the whole story.
---
"Luge is very respected in Germany," says Wolfgang Harder, press officer of the International Luge Federation (FIL), which is based in Berchtesgaden. "In some regions, it's part of school sport. They grow up with luge."

School is merely an entry point to luge in Germany. The nation's promising young sliders are fostered by institutions both public and private, including four luge headquarters in Königssee, Oberhof, Altenberg, and Winterberg. These annual stopping points on the nine-race World Cup circuit are homes to luge clubs and junior teams, each distinct but all unmistakably German.
Collectively, this network of tracks promotes the overall growth of luge in Germany; it's comparable to the concentration of elite tennis facilities in southern Florida. Individually, the four centers assemble their own rosters of lugers to compete against one another, which further strengthens the crop of elite sliders. This wealth of infrastructure, funding, and recruiting ensures that Germany's Olympic luge team is an all-star team of all-star teams. It's been said that Canada could skate two medal-winning ice hockey teams for each Olympic Games, but Germany's depth in luge is even greater.
"They have so many more athletes to choose from," the American luger Erin Hamlin says. "We have way fewer kids involved. We might have 15 kids come into a program in a year that we think have potential. They have 15 kids from each club from each track. And they can pick the best ones to go into their junior program. Their pipeline is just so much more full than ours, and refined."
Tradition-rich luge clubs aren't the only way Germany manages to keep its national team brimming with medalists, either. The national army and German police force play a role, training lugers in civil professions while allowing them to follow their athletic passion. Felix Loch and Natalie Geisenberger, who each won singles gold at the 2014 Olympics in Sochi and also contributed to Germany's team-relay gold, took this path to the Olympic podium.
"They developed very well," says Georg Hackl, a three-time gold medalist and two-time Olympic silver medalist. "Quite perfect athletes—their body size, their body shape, their ambitions. They got very good support in school in Berchtesgaden. The next step was going to the police. The professional way they go for their goals."
"They are paid by the army, but they can do their whole year luge," explains Harder. "That's the reason why they are professional. They have a social network which fits them perfect."
It may come as little surprise that the countries which have managed to snare Olympic medals at Germany's expense are, for the most part, its neighbors. Austria and Italy have performed admirably on the sport's biggest stage, but even the Italian connection to luge is German at its core. Italy's lugers hail almost exclusively from South Tyrol, a largely German-speaking province annexed by Italy in the early 20th century.
"They're not Italians, really," says Gordy Sheer, marketing director of the United States Luge Association and a former luger. "They have their own identity, their own dialect. So they all have German-sounding names, like [six-time Olympic singles medalist] Armin Zoggeler."
Germany's pervasive influence on luge has also inspired one of the great Wikipedia sentences of our time: "As the Italian luge team is completely recruited from South Tyrol, nearly all medal winners, except those from Soviet Union, Russia, United States, and Latvia, are ethnically Germanic." There's no lie in it.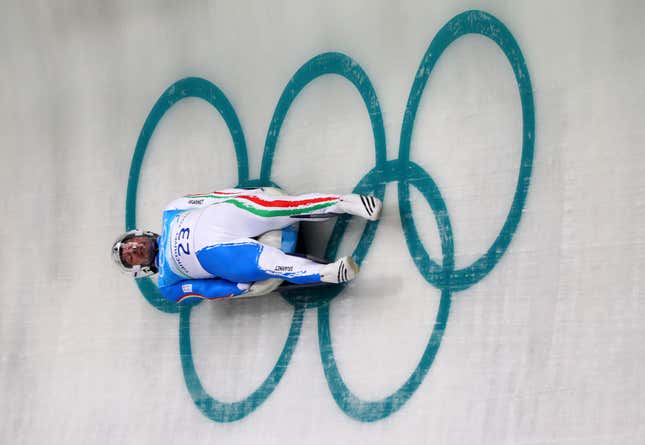 ---
Of the 129 Olympic medals that have been awarded in luge, the Soviet Union, Russia, the United States and Latvia have combined for 16, and only one gold. (Two Russian-won silver medals were stripped as part of doping penalties in 2017.) That singular triumph came at the 1980 Olympic Games in Lake Placid, when Vera Zozulya gave the Soviets their own miracle on ice in the quaint upstate New York village.

Lake Placid's connection to the Olympics grows more astonishing with age—how did this place of 2,500 permanent residents host not only one Winter Games, but two? Reminders of 1932 and 1980 are everywhere in the town, from the outdoor speed skating oval to the ice rink that hosted the Americans' Zeitgeist-capturing, Miracle-movie inspiring victory over the Soviets. Tourists can skate on both—it's free with an Olympic Sites Passport. Main Street's storefronts are lined with with posters, souvenirs, and tchotchkes of Olympics past. Lake Placid's zip code is 12946, but given how much the Olympic Rings have meant to the town, it should probably be 00000.
Lake Placid's purest link to the Olympic past is luge. The sport's U.S. headquarters are based entirely in Lake Placid, and the remote mountain community continues to host international races at the highest level. A nascent movement to co-host a future Winter Olympics with nearby Montreal would rely on Mount Van Hoevenberg, whose 1.3-kilometer artificial track is one of only four Olympic-level luge courses in North America.
"I came up for a long weekend, for the World Championships in '73," track manager Tony Carlino told me one morning as his crew was re-sculpting some of the course's 19 curves and its signature chicane by hand. "Here we are."
The headquarters of the United States Luge Association are eight miles from the mountain. Austere in comparison to the Lake Placid Olympic Training Center, just a short walk away, the utilitarian home of USA Luge is where the sport's domestic future is secured and its international goals are pursued through marketing, fundraising, management and training.
It's also another local shrine to times past. Mementos of luge races from Sigulda, St. Moritz, and Lillehammer dot the building's jumbled office spaces. Old sleds, runners (those are the curved blades under the pod and also known as kufens), and steels (these are what touches the ice, and are attached to the runners) are strewn about a busy workshop. In the adjoining conference room, which doubles as a kitchen for the devoted staff of 14, two framed photographs symbolize the slow but steady progress of U.S. luge.
In the first picture are Gordy Sheer, Chris Thorpe, Mark Grimmette, and Brian Martin—the two American doubles teams that won their country's first Olympic luge medals, 20 years ago in Nagano, Japan. Sheer and Thorpe, the silver medalists, finished two one-hundredths of a second behind the German team of Stefan Kraube and Jan Behrendt.
"We broke the barrier," Sheer told the New York Times in 1998. "I guess it's now up to someone else who comes after us to live up to our performance and one-up us and get the gold medal."
The second photo is of Erin Hamlin. 16 years after Sheer and company's unprecedented achievements, Remsen, N.Y.'s regional celebrity became the first American to win an Olympic medal in singles luge. When she took bronze in Sochi, Russia, it had a gold-medal feel, considering the stacked odds against her. The gold, if you were wondering, went to Germany's Geisenberger—FIL World Cup champion from 2013 to 2018. Silver went to Tatjana Hufner, FIL World Cup champion from 2008 to 2012, also German.
"They're phenomenal at what they do, I can never take that away from them," says Hamlin of her German peers. "We train hard, they train hard, as far as I know. I don't know exactly what they do. The sport in general is something that's way more established there.
"We're at the point where we're taking as many kids as we can who show an interest in the sport, that we can convince to do it—and convince their parents to let them do it. Then they have to either travel to one end of the country or the other [to Lake Placid or Park City, Utah, site of the only other American luge track] to do the sport, which they have to pay to do. It's just harder to get that support."
Hamlin is widely considered the greatest luger in American history, and is expected to retire after the 2018 Olympic Games in Pyeongchang, South Korea. She summed up the challenge for USA Luge with her trademark honesty. "We're trying to make [our sliders] good. We can't necessarily choose based on natural talent, and hone that person into a better athlete. We're taking someone who maybe just made it down [the track] once, and work and work and work and work with them until they can compete with the best in the world."
To deliver on Sheer's hope and circumvent Hamlin's concern, U.S. luge would need a very special kind of competitor: someone who loves this bizarre and terrifying niche sport at an unusually young age; someone who has both ample access to a luge course and the financial wherewithal to harness that luxury; someone who has a support system that can sustain an interest in luge through a decade of training as an adolescent and beyond; someone, most importantly, who has the natural talent to compete with Germany.
That someone, many believe, sat across from me in Lake Placid's nondescript conference room, with the past and present of U.S. luge smiling down from their photographs. "My story," the future of U.S. luge told me, "is a little different than everyone else's."
---
In 2014, as an 18-year-old, Tucker West became the youngest man to represent the United States in Olympic luge. The Ridgefield, Conn. native finished 21st overall in Sochi, but before the year was over, he would give the insular world of luge reason to believe that the next time he represented the U.S. at the Olympics, his finish could deliver something historic. This underdog story begins in 2002, when West was just six years old.

"My dad and I were watching the Salt Lake City Games," recalls West. "We saw luge and that sport caught our eye. We were like, 'Dang, we really gotta try that.' So the natural progression is to go sledding in your backyard. We slid down the hill in our backyard. That wasn't fast enough, so my dad had the idea to ice down the hill, to make it go a little faster. We got a little faster, but that still wasn't enough.
"So then my dad and I actually built a luge track in our backyard."
The Wests' backyard track is already entrenched in American luge lore. It was featured on ESPN and NBC during the Sochi Winter Games, and a promotional spot for NBC's Pyeongchang Olympics coverage shows a very young West standing in front of the 800-foot long, undulating wooden structure. A few seconds later, West's dad, Brett, is shown pushing his son down the start on a green sled, picking up speed as he bobs from side to side.
"We got pretty fast on that," Tucker told me, "like 45 miles per hour at top speed, just on those little flexible plastic sleds."
Brett, a successful entrepreneur who often travels the world to watch his son race, continuously refined his homemade track to increase its potential speed and better replicate an actual luge course. Curves were added and straightaways were built; an icing system was even installed.
The course worked almost too well. One time, Brett let a bowling ball go from the top of the track to test its frozen surface. The ball gathered so much speed that it careened off of the first curve and into a nearby tree. "I didn't have a grand plan from the beginning," the elder West told USA Today in 2014. "I started building and like a lot of people, just figure it out as I go."
Adjustments were made so that Brett's son wouldn't wind up like that bowling ball. From then on, Tucker has just been getting faster.
When Sheer, whose job includes finding the next generation of U.S. sliders, caught wind of the Wests' contraption and devotion in 2004, he headed down to Ridgefield to see it all for himself. It was love at first sight. "He invited my dad and I out to Lake Placid, to try it out for real," says West. "I was nine years old at the time. That was my first run down the [Mount Van Hoevenberg] track, from start 5, curve 12."
Most prospective lugers in the U.S. are assessed on what USA Luge calls Slider Searches. At these events, speed-happy youngsters navigate closed-off roads and bales of hay using sleds with rollerblade wheels in place of steels. West was well ahead of these curves. To hear him tell it, when he got his first experience on an actual track, he was hooked.
"It became his life, essentially," says Hamlin, whose own luge career started on a Slider Search. "Once he got into the program, he dedicated all of his time—he moved up to Lake Placid when he could. And he's had a lot of resources available to him to be able to live here and train here. Basically putting your blinders on and focusing on one thing."
The fabled track still stands on the Wests' sprawling West Mountain Road estate, making the nearby grass tennis court look like an innocuous patch of sod. You've noticed that almost-too-apropos address. Tucker West, it seems, was born to luge. "I've pursued it ever since," he said.
When West broke the track record at the Lake Placid World Cup stop in late 2014—and then broke it again on his second run of the day—it was clear that the precocious teenager had an unteachable talent for this uniquely demanding sport. His comparatively sprawling margin of victory, 0.77 seconds, was so overwhelming that the Germans asked that it be rechecked.
"That was one of the weirdest World Cups I've ever slid in," says West. "The week going into it I had absolutely awful training. At the last second we made an adjustment to my sled—we sharpened up my runners a little bit. It gave me more control, and things just starting clicking. As I came to the finish curve, crossed the finish line, I didn't even have to look at the time. I knew.
"I like to think that, in that race, I was able to unlock my potential of what I can do everywhere in the world."
---
Luge is the only Winter Olympic event in which athletes are timed to the thousandth of a second. This is partially out of necessity: at the 1972 Olympics, two gold medals were awarded in the doubles event when teams tied to the hundredth of a second. But more than anything, that timing distinction reflects this sliding sport's unrivaled speed. Lugers lay supine, an aerodynamic-friendly position, and their sleds are designed to glide on the ice with as little resistance as possible. The goal is to go as fast as possible; the game is to find ways to expand the idea of the possible forever further out.

"Go ask a skeleton athlete, what's up with those lugers—are they actually that crazy?" says U.S. luger Chris Mazdzer. "And they'll be like, 'Yup.'"
Mazdzer is a luge lifer. The 29-year-old grew up in Saranac Lake, N.Y., just a few miles from Lake Placid, and has embraced the itinerant nature of his sport like few others. He serves as the U.S. athlete representative to the FIL, he's something of a big brother to West, and he participated in the homologation of the track in Pyeongchang, where he'll compete in his third Olympics. He has built a life in and around the sport, which is why he appreciates how remarkable West's talent truly is.
"Unlike bobsled and skeleton, we have to start such a young age," says Mazdzer. "You don't really start hitting your peak until your late 20s—unless you're Tucker."
The 2015-16 FIL World Cup season started well for West, with a seventh-place finish in Innsbruck, Austria. Then, in Lake Placid, he took silver. His teammates fared even better: Mazdzer took the gold, and the top three U.S. women—Hamlin, Emily Sweeney (one of three U.S. Olympians to participate in the U.S. Army's World Class Athletes Program), and Summer Britcher—swept the podium in a historic result. Even on the Americans' home track, the results impressed the Germans. Hackl called it "good for luge," while the normally frosty Geisenberger requested a selfie with the trio of women's medalists.
Loch, the two-time defending Olympic gold medalist, couldn't have had a worse start to his season. After being disqualified in Innsbruck for an overweight sled, he sat atop Mount Van Hoevenberg with a .128-second lead after the first run of the two-run race. But then the German made a crucial mistake on curve 16 and hit the wall; that effectively guaranteed defeat on the meandering, technical track that demands precise driving.
Loch's sixth-place finish was even harder to swallow in the context of Germany's pre-season efforts to prepare for Lake Placid. Only six runs are given to each luger per race week—a limit that attempts to level the competition—but Loch wanted more reps on Mount Van Hoevenberg before the December race. So that November, a group of 10 German coaches and sliders made a cross-Atlantic trip, under the guise of a different type of practice.
"They wanted to keep it down that the German team was here," Harder says. "They told the Lake Placid authorities they would come with the junior team. Someone saw the top team and Sandy [Caligiore, a media and public relations representative for USA Luge] said, 'Hey, the German top team is here!' I wrote it, and the Germans were very angry about this information."
The Lake Placid trip was criticized in Germany for its high cost and lost training time back home. The United States and other luge nations take preseason trips to Lillehammer, where the climate is conducive to sliding in the fall, for an informal kickoff to the new season. But Germany's journey to upstate New York was something entirely different. The only real explanation for the journey was a maniacal desire to maintain its longstanding grip on the sport.
All of which is to say that Germany's dominance isn't just about culture or institutions—they want to win, badly, and will do anything and everything they can to do it. German lugers sometimes cover their sleds at the end of runs so opponents can't view their setups; these opponents include fellow Germans. "You don't see the camaraderie amongst the German team that you see on other teams," says Sheer, "and it's because of that system they've created." Infighting between athletes from rival tracks is freely mentioned in luge circles.
While most of the luge world seems to work together, the prevailing feeling is that, as with everything else in the sport, there's Germany, and there's everyone else. What this means, from one moment to the next, is that no one competes with the Germans quite as furiously as… the Germans. On a recent World Cup broadcast, announcer Tim Singer said Hufner "stays away from the drama of the German program." One luger told me that some Germans would rather see another country's lugers win a medal than a compatriot from an opposing German track. At one particular race, Harder spoke to "unusual harmony" among the German women's team.
"Currently, we have very good athletes, but that's just for the moment," says Hackl, whose affinity for luge stems from a childhood apprenticeship in metallurgy. "I remember times when we were thinking about and didn't understand why U.S. athletes were faster than us, why Austrian athletes were faster than us, why Italian athletes were faster than us. I know all these times, and I didn't forget."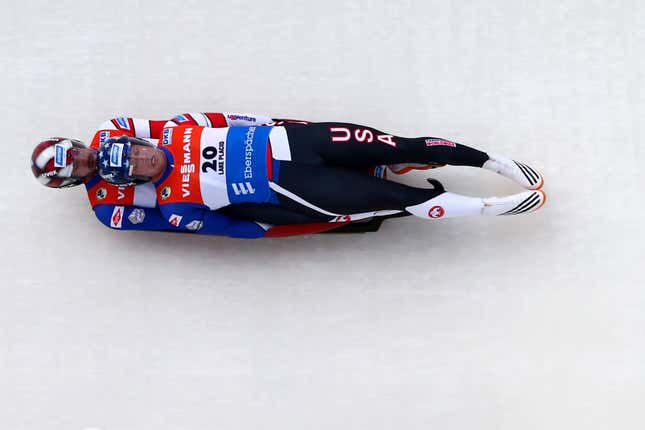 Park City, the race after Lake Placid on the 2015-16 calendar, bore more fruit for the Americans: another gold for Mazdzer, a silver for Hamlin and two golds for Britcher, in the two-run race and one-run sprint competitions. This speedster's paradise, with its long, sweeping sections of track, also marked a return to form for Loch, who took bronze. It would be the last time in some time that he'd finish anywhere but first—the German would go on to win seven consecutive gold medals, including two sprint races, at five different courses in four different countries. He ran away with the season's overall World Cup title, with Mazdzer finishing third and West finishing seventh.

Loch's level of consistency—and, by extension, Germany's dominance throughout luge history—seems practically impossible given the infinitesimally small margins by which races are decided.
"Technology is a big part of that," explains Hamlin, who finished fourth overall in 2015-16. "They have databases of statistics and numbers, down to the sled setup and steel changes for particular tracks in different weather conditions. We've tried to start doing that. It's not going to benefit my career, but in 20 years, if we start now, we might have that level of information."
The Americans have made technological strides during Hamlin's career, especially in recent years. A refrigerated start room in Lake Placid includes three ramps, all coated in ice and constructed at various heights in order to mimic luge tracks around the world. Force meters and timing systems allow coaches and sliders to know exactly how strong their all-important starts are. You can't win a race at the start, the old saw goes, but you can certainly lose it.
According to Hamlin, the U.S. team has doubled its video capabilities in Pyeongchang. During the team's first trip there in 2017 for a World Cup test event, it installed two permanent cameras on Curve 9, the most treacherous section of the course and one which will undoubtedly play a role in deciding the Olympic medals. The curve was so difficult to navigate that nations were sharing tips with each other in order to get sliders down safely.
Mazdzer, who has struggled since his third-overall finish in 2015-16, admits that the world's best shot at Germany is in Pyeongchang. It's a new track, one that hasn't been dissected, inch by inch, after years' worth of runs. Hamlin's bronze in 2014, at the Sochi track built in 2012, proved that talent can overcome technology under such circumstances. And Loch's winning streak in 2015-16—which included gold medals in Calgary, Sigulda, two German tracks and, yes, Sochi—proved that the Germans are capable of deciphering any course if given enough time.
"Their data collection process and procedures are rather elaborate," says Mazdzer, "and they will without a doubt be the first nation to figure out how to set up their sleds."
As with its excursion to Lake Placid, Germany will spare no expense on engineers, personnel, and any other methods in which they could gain an advantage in Pyeongchang.
"I was watching the Germans do some extensive testing yesterday," West told me from Pyeongchang last February. "[Loch] came down with a computer in his sled, he had like six cameras lined up on it, he had wind testers on it, something I've never seen before.
"So that was pretty secretive. He ran that inside."
---
The scene on West Mountain Road in the summer of 2016 was one of appreciation and anticipation. Two World Cup seasons had passed since West's Olympic debut; from this point on, Pyeongchang was closer than Sochi. The Sochi Olympics, that is—Sochi, the West family's English Mastiff, was nearby and to all appearances enjoying the idyllic summer evening with many two-legged admirers. A sumptuous meal was served, including grilled chicken, savory salads and, of course, sliders.

As Brett West regaled guests with stories about the backyard track, Tucker, clad in an ensemble fit for Nantucket, explained how the United States' push toward Pyeongchang would be taking a decidedly German turn. Bengt Walden, a former slider from Sweden, had just been hired by USA Luge after a stint coaching Norway.
"This is where Bengt's German connections come in," says West. "Norway also hired a retired German slider, David Möller, to help coach and take up the sled development program. Bengt was able to work with Möller over the years and became close friends with him, which also allowed him to pick up on some German techniques and training styles."
Walden's first act as coach was overhauling the Americans' start training program. Thanks to the refrigerated start room, this was an aspect of training that the team could work on regularly, including over the summer. West would drive to Lake Placid the next day to begin the more structured regimen.
"He's going to improve the team's starts ten-fold," said West, "which, for some people, is the only missing link to getting to the top of the podium consistently."
West won two gold medals in his first three races of the 2016-17 season, in large part due to improved starts. His finishes didn't hurt, either. Like Loch the year before, West took the final run in Lake Placid after posting the best opening run. Barreling down Mount Van Hoevenberg, West crossed the penultimate split at .001 seconds behind Russia's Semen Pavlichenko, one of the world's top sliders. "Most athletes have been on both sides of that thousandth," West told me the previous year in Park City.
West had just enough track left to cross to the other side. Another gold followed in snowy Calgary; the only reason West didn't finish in the Top 5 overall was a season-opening disqualification in Winterburg, for an overweight sled.
The other American sliders have benefitted from Walden's tutelage, too. At the 2016-17 World Championships in Innsbruck, Hamlin, not known for her starts, finished second overall. Two spots behind Hamlin—who also won the one-run sprint race at last year's Worlds—was Britcher. The 23-year-old from Glen Rock, Pa. went on to win both the two-run and sprint races in Lillehammer earlier this year and finished third in the overall 2017-18 World Cup standings. As of this week, Britcher was given the fourth-best odds to win gold (at +800; Geisenberger is the favorite at -200) at bwin.com.
Meanwhile, the top U.S. doubles team of Matt Mortensen and Jayson Terdiman finished the 2016-17 season third overall, ahead of the talented Germans Robin Geueke and David Gamm, and Latvian brothers Andris and Juris Sics. The U.S. pair's career year was the culmination of innate talent, Walden's teaching and, just as significant, a helpful bit of German technology.
While playing golf with Walden in 2015, Terdiman was made aware of André Florschuetz, an Olympic silver medalist in doubles. The ex-German slider took an interest in working with Terdiman and Mortensen after watching their first season of racing as a team. Specifically, he wanted to build them a superior sled.
The American and the German communicated over video conferences before the tour returned to Europe in January 2016.
"We set up a meeting with André during the week the team was in Oberhof, Germany," says Terdiman. "Over the next month I had three other meetings with him, in his garage-workshop at his home. I would drive about four hours, both ways, from our different stops on tour to get to his place, and we would work between three and five hours on sled measurements at each of these meetings."
Florschuetz worked on the sled over the spring and summer, tailoring it to fit Terdiman like a bespoke suit. The Berwick, Pa. native is the only person of the team actually laying on the sled; Mortensen lays on top of him, connected to the sled by leg straps. This explains why NBC Olympics correspondent Mary Carillo says of doubles luge that, "it's like a bar bet gone bad."
The sled was finally delivered to Terdiman in August 2016, and it immediately paid dividends. He estimates it shaved a tenth of a second per run, if not more, from his and Mortensen's times. That sliver of time counts for a lot. In July, after Terdiman and Mortensen's successful 2016-17 season, USA Luge hired Florschuetz as a technology consultant.
"I'm happy to have been able to open that door for USA Luge," says Terdiman. "It has and will continue to help this team thrive."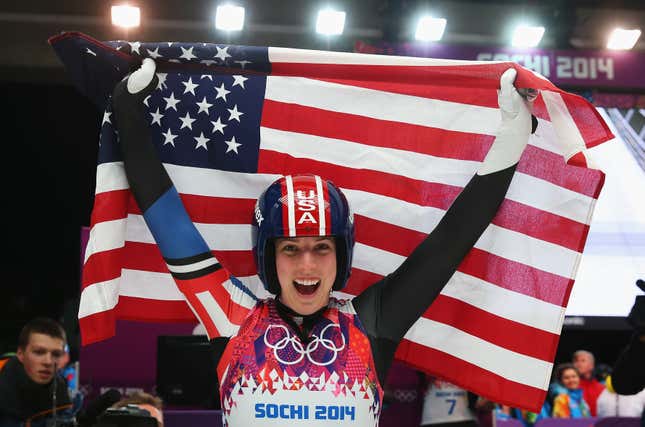 West's run-up to Pyeongchang recalls Hamlin's experience prior to Sochi. She didn't medal in the World Cup season preceding the Olympics; he collected just a single bronze in 2017-18. Like Hamlin, West will be chasing an exceptional German talent: both Geisenberger and Loch finished first overall in the 2013-14 and 2017-18 World Cup seasons. And both Americans will give chase on a brand-new track—"a neutral zone," says West, who will have as many practice runs at the Alpensia Sliding Centre as anyone else. "Come race day, we're all going to be on even footing."

And come race day, after a week of practice that gives each Olympic luger just six runs, the massive, inherent advantages of a home track will give way to pure talent. West and those close to him are confident that he can shine under those conditions. "I know he has medal aspirations and expectations," Brett West says about his son. "I guess I'm in the same boat.
"Tucker has dedicated his life to the sport, and sacrificed so much to get here. He isn't doing this to be content with fourth place, and I agree with that thinking. He is delaying an entrepreneurial career he had plans for, because Olympic medal goals must be met, and I admire that."
One additional medal possibility for West is the team relay. Introduced at the 2014 Olympic Games, the event brings together the top-finishing man, woman, and doubles team from their individual races for one last shot at a podium.

"If he gets the [team relay] slot, I give it better than 50 percent odds," calculates Brett.
How Tucker and his teammates fare in Pyeongchang, and in future Olympic Games, is of great consequence to the U.S. Luge Association. The organization commits considerable resources in every athlete it trains, feeds, houses, and shuttles around the world, but invests most deeply those at the elite level. Sheer, who like West was drawn to luge as a child and has never let it go, knows this first hand. "The pressure's on the Games, because that's where you're judged by the U.S. Olympic committee," says Sheer. "U.S. luge sponsors provide the lion's share of our budget. Close behind is the USOC."
This isn't something that West or his peers will be thinking about on the track, though. Sheer describes luge as the last bastion of athletes involved with sport just for the sake of competing. Where other sports offer the potential for fame and riches, luge offers the thrill of speed and the pursuit of the next thousandth-of-a-second. And that's just the way its athletes like it.
"It's the nature of our sport in this country," says Sheer. "People may come out to see a World Cup luge race, but they may not understand the overall context. They don't realize that it's part of a whole series.
"I really don't care about that. if you're in it for glory, you're not in the right sport."