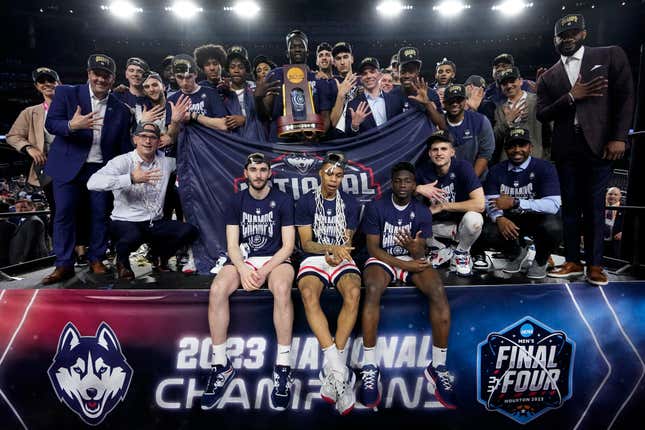 Of course there have been both more highly anticipated and better-played NCAA Men's Basketball Championship games than the one that took place on Monday night. It didn't take long to realize that Connecticut was going to defeat San Diego State, thereby winning the championship in the most dominating fashion since 2009 North Carolina.
Is Steve Nash the greatest Phoenix Sun of all time? | Agree to Disagree
The lack of recognizable players and coaches in the 2023 men's basketball tournament will make this single UConn victory less than memorable. However, the fact that the Huskies pulled this off cements its legacy as the greatest men's northeastern program of all time, and possibly the best from sea to shining sea.

The UConn men's basketball team doesn't have much of a winning history to speak of before 1950. Even though it played in several NCAA tournaments, it hardly ever could be truly considered a contender to win a title.

It started with Jim Calhoun
Then Jim Calhoun took over in 1986. He became head coach not only after men's college basketball was fully integrated, but also shortly after UConn became a part of this new Big East conference. A conference that was well into its push to try and become the premier one in the sport.

It took Calhoun 13 seasons to reach the program's first Final Four. Once UConn finally got there in 1999 the program took its final leap and won a national championship. At this point, the Big East was far from its glory years of Georgetown, Syracuse, or other programs from that conference running roughshod on the sport. The dominance of UNLV had already come and gone, the ACC was rocking, and titles were being won from coast to coast.

How UConn has separated itself from most of the successful programs of the post-TRL era is that championship success has followed it no matter the coach. Yes, Calhoun won three championships in 13 seasons, but the winning didn't stop with him.

Then Kevin Ollie
Kevin Ollie was named Calhoun's successor — along with his pronounced durag line. When Ollie's UConn squad won the national championship in 2013, the players who played the bulk of the minutes were Calhoun recruits. While Ollie didn't build the roster, someone had to maximize its potential. Not a single player on the 2013-14 championship team would go on to have a notable NBA career. LeBron James gassed Shabazz Napier up to the Heat in 2014. Napier has not played in the NBA since the 2019-20 season.
And now Dan Hurley
Dan Hurley took over as head coach in 2018. Until this season his team had not won a single tournament game in his tenure. As a No. 4 seed, the Huskies held up the trophy on Monday night. That is five national championships for the UConn men's hoopers, four since the turn of the millennium. And most remarkably, the winning has been done with three different coaches.
The success of Duke, UCLA, Syracuse, and many other programs has largely been attributed to one head coach. A few programs like Kentucky, Kansas, and North Carolina have been able to maintain championship success with multiple coaches. Outside of UConn, Kentucky is the only other DI men's basketball program to win championships with three different coaches in less than 25 years. The Wildcats won three titles from 1978-1998 with Joe Hall, Rick Pitino, and Tubby Smith. The Huskies have won five titles from 1999-2013.

March Madness has six rounds, each of which is single elimination. It is highly unlikely for a team to put together a four-championship run from 1983-91 like the University of Miami's football team, whose postseason consisted of one game.

That is exactly why UConn's 24-year run deserves to be discussed as one of the best in NCAA history. The program has suffered through many down years, but since 1999 it has navigated through that minefield of a postseason five times with three different coaches.

UConn's first championship came just before top draft picks entered the NBA immediately after high school became commonplace. Michael Olowokandi was the No.1 overall selection in the 1998 NBA Draft after three seasons at Pacific. The season in which UConn won its next title, LeBron James was the No. 1 overall pick straight out of St. Mary St. Vincent High School in Akron, Ohio.

In 2011, one-and-done was the standard for college players. UConn won a national championship with junior Kemba Walker playing better basketball than any player in the country. In 2014, Ollie's team won with no future NBA lottery picks on the roster. On Monday night, in the G-League Ignite, Overtime Elite, NIL-era of college athletics, Dan Hurley's squad won the program's fifth national championship.

No men's program has navigated the change in times and the rise in NBA salaries like UConn. Remember that when discussing the top programs in the history of the sport. The UConn men are one of the few that no matter the era or person calling plays, will at some point find a way to be called champions.